Hold onto your bass lines, synth-heads—Moog Music on Monday released Animoog, a professional-quality polyphonic synthesizer app for the iPad.
Moog Music, created in the 1950s by electronic music pioneer Robert Moog, is the maker of the multi-thousand dollar keyboard synthesizers and MIDI controllers that make even the most hardcore rock stars sigh. The company's products have been used by everyone from The Doors to Radiohead, and its inaugural iPad app aims to bring the legacy of its products to iOS.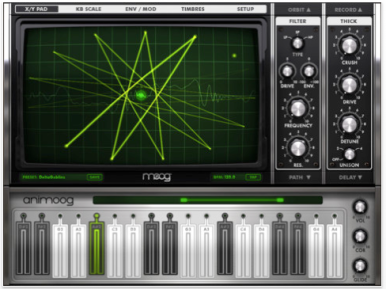 Animoog is designed to satisfy both hobbyists and professional musicians by creating an easy-to-use interface that incorporates the many functions of Moog's classic synths. At the centerpiece of Animoog is what Moog Music calls the X/Y space. This is where the app makes use of the Anisotropic Synth Engine—an interface that allows the user to create sounds by moving through a grid. In the X/Y space, users can also manipulate sounds from Moog's large catalog of vintage and modern synthesizers and pedals.
Animoog separates the iPad screen into four, editable windows—each with their own controls. The traditional keyboard sits across the bottom of the screen while windows for Delay, Thick, Orbit, Path, and Record modules are arranged alongside the large X/Y screen. Users can play with effects in all of the windows individually as they mold their sounds, resulting in a similar experience to working with several different, but connected hardware units in a studio.
Users who are attached to their retro synthesizers will find Animoog's interface familiar—the controls within each of the modules look like the knobs on synthesizer hardware. The Record module comes complete with a red light to indicate when the user is recording their music. Animoog is not all faux-hardware though: The X/Y grid and the keyboard look like they were stolen off the U.S.S. Enterprise.
If you are still more comfortable with your own MIDI keyboard controller, the app allows for a MIDI input so you can use the Animoog interface without having the limits of the small keyboard.
Animoog is not Moog's first venture into iOS synthesizer apps—the company released Filtatron late last year for iPhone and iPod touch.
Animoog is available in the App Store and is priced at $1 for the first 30 days of its release, after which point it will cost $30. The app requires an iPad running iOS 3.2 or later.