At a Glance
Expert's Rating
Pros
Beginner friendly Feature Guide
Superior image quality
Superior low light/high ISO performance
Solid but basic feature set
Cons
Video limited to 720p (no 1080, no VGA)
No spot metering
No dust removal system
Video mode must be set via mode dial
Our Verdict
Canon's entry-level EOS Rebel T3 is a step up from Canon's popular XS DSLR, adding a bump up to a 12 megapixel sensor, a DIGIC 4 processor, longer battery life, higher ISO capabilities, improved autofocus and metering systems and the now ubiquitous video capture—a feature missing from the older XS. Its core functionality is very similar to its predecessor although the updated $600 (MSRP) model is even more user-friendly.
In keeping with Canon's naming system, the T3 is a stripped down version of the higher end T3i—an 18 megapixel camera that offers faster performance, more advanced features such as manual aperture and shutter controls in HD video, sports an external microphone input, supports wireless flash, and is outfitted with a high resolution 3.0-inch articulating LCD. With price drops and sales on the T3i, there's much less of a premium attached to the more sophisticated model. That said, both cameras are easy to use and produce good quality images.
Basics
Built around a 12 megapixel sensor, the Canon EOS Rebel T3 utilizes a DIGIC 4 processor and has an ISO range from 100-6400. It's equipped with an optical viewfinder that's clear, although a little dark, and provides 95 percent coverage. The 2.7-inch LCD, which is used for navigating menus, checking and adjusting settings, and shooting in Live View, offers a modest 230,000 pixel resolution and about 99 percent coverage. Neither the viewfinder nor the LCD are award-winning but are more than sufficient for everyday use.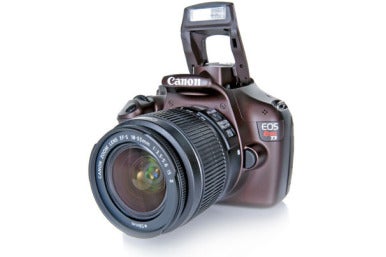 The T3 includes all the essentials of a DSLR: automatic, manual, and semimanual exposure controls, a handful of scene modes including portrait, landscape, sports, and night portrait, exposure compensation, as well as metering and autofocus options. Canon provides features that go a little beyond the basics, including custom settings, adjustable "ambience" parameters (more about that later), and picture styles.
Available in red, black, rich brown, and metallic gray, the T3's plastic body feels relatively well-made (for plastic). The comfortable-to-hold camera measures 5.1 x 3.9 x 3.1 inches and weighs about 17.4 ounces (body only).
Controls are grouped to the right of the LCD and are easy to reach as long as you have a tight grip on the lens with your left hand. Thanks to the camera's size, though, all controls are large enough for those with hefty hands to operate with ease.
Compatible with Canon EF and EF-S lenses, there are plenty of choices for building a system around the T3. As expected, the camera has a hotshoe for a Speedlite and, as is common with all but the highest end CompactFlash-compatible DSLRs, the T3 accommodates SD memory cards including SDHC and SDXC—and Eye-Fi wireless cards.
New features
In addition to improved autofocus and metering systems, there are several features that are worth discussing.
Quick Menu: New to the T3 is a Quick Menu for easy access and fast adjustments to the most often changed settings when Live View is activated. Some of the options available via the Quick Menu include Live View AF mode, single/continuous/self-timer, white balance, image effects/styles (landscape, portrait, faithful, monochrome, with fine-tuning for sharpness, contrast, saturation, and color tone), Otherwise, press the Q button to navigate the on-screen information panel for equally easy access to settings. Unfortunately, the only way to pop up the flash is via the LCD menu since there's no manual button to raise the flash.
Creative Auto: The Creative Auto mode is designed for ease of use and offers minimal controls such as drive mode and flash. However, Canon has translated depth-of-field into an easy-to-understand (and easy to adjust) "background blur" on-screen slider control for this shooting mode. Ambience selection is also accessible in Creative Auto (as well as other modes) allowing the user to choose from among a default standard option as well as adjustable Vivid, Soft, Warm, Intense, Cool, Brighter, Darker and Monochrome (blue, black and white or sepia). If ambience selection is accessed in Live View, the chosen effect can be seen on the screen. Using non-technical terms like brighter and darker, for example, is only one of the ways in which Canon has tried to make the T3 more understandable to those not well-versed in photographic terms.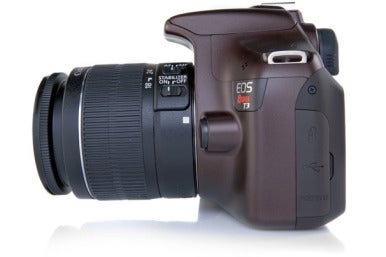 Feature Guide: Perhaps the most beginner-friendly feature is the Feature Guide, which can be enabled or disabled via the T3's main menu. The guide is extremely helpful, especially when those unfamiliar with DSLR icons try to decipher the icon-driven Quick Menu and on-screen information panel. Simple to understand descriptions pop up when switching the mode dial, as well.
Video: Although the XS did not have video, the T3's video feature is extremely basic. Video is captured in 720p, with a choice of 30fps or 25fps—that's it. Exposure compensation is available while recording but pretty much everything else—including white balance, picture style, auto lighting optimizer—must be selected prior to recording. Although movie capture can be started and stopped with the push of a single button, it's necessary to set the mode dial to movie first. And the movie setting is at the far end of the mode dial, so it takes an extra couple of seconds to switch from still to movie mode. Not a huge deal, but it makes the T3 seem a little out of date compared to most DSLRs with their one-touch, no mode change needed control.
Performance: At 3 frames per second maximum, the T3's continuous shooting performance lags behind the competition. In RAW, that drops to a maximum of 2 frames per second. Switch to RAW + JPEG, and the camera plods along at less than one frame per second. However, by foregoing Live View and using only the optical viewfinder, the battery can capture as many as 700-800 shots on a single charge.
Image quality
The T3's image quality is quite good, with excellent color reproduction that's both natural and accurate, without being dull. Photographers who prefer punchier color, can always adjust saturation or intensity using a selected picture style or ambience option. Exposure accuracy is also one of the T3's strengths and the camera earned a word score of Superior for Color and Exposure during lab tests. Below are some of the original shots from our lab tests.
I tested the camera with the image-stabilized 18-55mm kit lens and while images were generally sharp, the camera earned only a Fair rating. But unless you plan to make really large prints, sharpness shouldn't be an issue.
Distortion was given a word score of Good, which is more than well deserved as I noticed very little distortion at wide angle. It's also important to note that the T3 is equipped with a Peripheral Illumination Correction feature, which identifies the lens used (not all lenses may be supported, though) and automatically corrects for vignetting. Also notable is that there was little to no purple fringing along high contrast edges in my test shots.
High ISO performance was quite good. Image noise was kept pretty much under control up to about ISO 800. After that, ISO 1600 exhibited some degradation but images are still usable. In a pinch, ISO 3200 can be used for snapshot-sized prints and the Web.
Video and audio quality both earned word scores of Very Good. Although limited in options (720p only), the T3 captured family-and-friends worthy footage, with good color rendition. Video capture isn't quite as good as still capture in low light, but it's fine for casual movies.
Macworld's buying advice
The Canon EOS Rebel T3 is a solid albeit unexciting, entry-level DSLR that is—for the most part—easy to use. Beginner photographers or those who want a little help along the way will appreciate the camera's on-board Feature Guide; enthusiasts who are comfortable with DSLR features can easily disable the guide if it becomes a nuisance. The competition is pretty stiff in this category, though, so it's a good idea to shop around. If you can find a T3i for a reasonable price, you might want to spend the extra money for faster performance, a better LCD, advanced video options and more.
[Theano Nikitas, a full-time freelance writer and photographer, has been writing about photography for the past 19 years. Her digital imaging reviews, features, how-to articles, and images have appeared in a wide variety of publications and websites. Her first underwater photos were shot with a Nikonos IV.]