Congratulations, you've braved the lines, delivery wait times, or in-store negotiations to snag yourself a brand-new iPhone 4S. But before you get to playing with your new device, you'll probably want to set it up. Thanks to iOS 5's step-by-step activation process, Apple's made it pretty simple to get started; but just in case you need some extra help, we've put together a comprehensive guide for activating your new iPhone, transferring data from your old phone, and some suggestions for exploring your 4S's new features.
If you're upgrading from an older iPhone
You're moving on up to the latest and greatest in the iOS world, and to do so, you're leaving your old device behind. But before you send it off on its last voyage, you have to decide if you want to transfer its apps, data, and settings to your 4S. If you do, you'll need to make a backup (via iTunes or, if you're running iOS 5, via iCloud) of your information.
Make a backup using iTunes: If you're running iOS 4 or earlier, an iTunes backup is the way to go. To update your backup (or to create a new one) connect your old device to the computer you normally sync it with via USB, open iTunes, select the device, and press the Sync button. You can also create a backup by control-clicking on the device in the iTunes Source List and selecting Back Up from the drop-down menu.
Make a backup using iCloud: If you're running iOS 5 on your old device with an iCloud account, you're still able to make an iTunes backup, but you can also take advantage of iCloud Backups to save your data. Your device will automatically make an iCloud backup once a day while locked, plugged in, and connected to a Wi-Fi network, but you can manually force a backup whenever you're on Wi-Fi by opening the Settings app on your device. Navigate to iCloud -> Storage & Backup, and make sure the iCloud Backup switch is toggled on. From there, you just have to tap on Back Up Now to start the process. (You should note that iCloud backups can sometimes take significantly longer than iTunes backups, so it may not be the best option if you're in a hurry to set up your new phone.)
If you're upgrading from another smartphone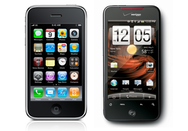 Moving from an Android, BlackBerry, or Windows 7 smartphone to the iPhone 4S? Depending on how you've set your information up, it should be relatively painless to transfer it to your new device.
Mail, contacts, and calendars: If you're using a Gmail account or other POP or IMAP-based account for mail on your smartphone, it's already syncing to a central server, and you should be able to add that account to your new iPhone with few issues. Apple's iOS has automatic setup for those using Microsoft Exchange, Gmail, Yahoo, Aol, or Hotmail; you'll also be able to manually set up a POP or IMAP account for mail, LDAP or CardDAV for contacts, or CalDAV for calendars.
Music, videos, and photos: Your new iPhone uses iTunes to sync any local music, TV, movies, and photos from your computer to the device. If you've been syncing that information with your smartphone, it's easy enough to change that over to sync with your Apple device—you just have to know where the content is located. To sync any music or video you have on your computer, add it to iTunes; to sync your photos, add them to iPhoto or Aperture (on a Mac) or place them in your Pictures folder (on a PC).
If you've purchased content through your smartphone that hasn't been copied to your computer (say, if you're using Amazon Cloud Drive), you should be able to download it to your desktop system, or, at the very least, install an app on the iPhone (like the Kindle app for book purchases) that lets you access the information.
Apps and miscellany: Unfortunately, you can't port any Windows or Android apps from your old device to your iPhone. On the upside, you may be able to find parallel versions of those apps on Apple's App Store (for instance, if you're using Dropbox on your smartphone, you can download the company's iOS app and continue to access your Dropbox data). If you have apps with valuable information you don't want to lose (notes apps, to-do lists, etc), you can poke around to see if there's any way of exporting that information; otherwise, you'll be out of luck.
SMS and MMS logs, while not transferrable, are in theory rescuable, depending on what kind of smartphone you own, but it requires a lot of legwork on your end. You won't be able to add them to your new iPhone, however; you'll simply be saving them to your computer. There are a variety of different programs available for exporting messages from your smartphones— SMS Backup & Restore for Android appears to be one popular option. That said, as I haven't used any of these programs, I can't personally recommend any, but you can search Google to bring up more options.
If you're upgrading from a feature phone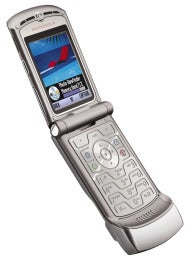 Yes, it's finally time to toss that Razr aside for something a little more full-featured. But what about your contacts and your photos? If you're on a GSM-based phone, it's easy enough to rescue the first; for the second, you'll need Bluetooth support or a connection cable for your device.
You can transfer your contacts one of two ways. If your old device uses a micro-SIM card, you can copy all your contacts to its SIM; once you've set up your iPhone 4S, you can copy those contacts by swapping out your iPhone's card with your old micro-SIM card and heading to Settings -> Mail, Contacts, Calendars -> Import SIM Contacts. Once the import has completed, eject your old SIM and put the one that came with the 4S back in its tray. (If you're worried about doing this yourself, you can always head down to your nearest Apple Store—any employee should be able to do it for you.)
If your phone has a regular SIM card, but comes with a USB cable for connecting it to your computer, you may be able to transfer your contacts (and your photos) by exporting them through software. (This, obviously, depends on your phone; check its manual or Google for specific transfer information.)
Begin the activation process
In past years, to activate an iPhone (or any other iOS device), you would have to tether it to your Mac or PC and launch iTunes; not so with the iPhone 4S. Instead, you'll be able to set things up directly on the device—no computer need ever be involved.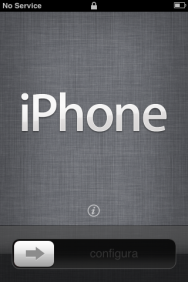 Once you've unboxed your iPhone, turn it on by pressing the On/Off switch. You'll be greeted with a welcome screen displaying the message "Slide to set up" in a variety of different languages. (If you need quick access to your device's IMEI or ICCID number without setting up the phone—useful for developers and business customers—you can tap the information button located directly above the slider.)
To begin the activation process, slide the switch to the right, where you're asked to pick your language, country, and if you'd like to enable Location Services. This allows Apple apps (and third-party apps) to access your location via Wi-Fi networks and your GPS (Global Positioning System) location. (You can turn this on or off from the Settings app at any point.)
Your iPhone will check for any Wi-Fi networks in the area for you to connect to; choose the Wi-Fi network of your choice to move forward, or set up your device using 3G by tapping the Next button. From here, you can set up your iPhone 4S as a brand-new phone or, if you're upgrading from an old iPhone, you can restore that data from an iCloud or iTunes backup.
Restoring old data on a new phone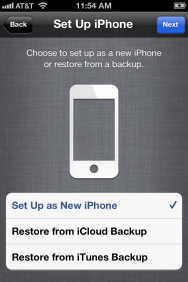 If you're upgrading from an older iOS device, you've hopefully made a backup of that information, either via iCloud or iTunes. Choose one of these options to copy that information to your new iPhone.
Restore from iCloud backup: If you have an iCloud account and have backed up a previous iPhone incarnation using its Backup feature, you can use this backup to restore your 4S (though you'll need to be on a Wi-Fi network to do so). To restore your phone, sign into your account, agree to Apple's terms and conditions, then choose which backup file you'd like to use, and tap the blue Restore button in the top right corner of the screen. (Depending on the speed of your Wi-Fi connection, this process can take anywhere from a few minutes to a few hours.)
Restore from iTunes backup: Tap Restore From iTunes Backup, and you'll be brought to the Connect to iTunes screen. Connect your iPhone to your computer and open iTunes; after clicking on your device in the source list, you'll see the Set Up Your iPhone screen, which asks if you'd like to set it up as a new iPhone, or restore from a specific backup. Choose the correct backup, and click the Continue button to proceed. This process is significantly faster than an iCloud restore, as you're transferring data over USB, rather than via Wi-Fi.
Once you choose either option, your device will activate and begin the restore process.
Setting up as a brand-new iPhone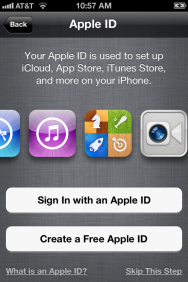 If you're moving over from another smartphone, feature phone, or if this is your first-ever mobile, you won't have a backup and will have to set your iPhone 4S up as a new phone. To do so, the first thing you need to decide is whether to supply an Apple ID, or create one, if you don't have one. You use your Apple ID to buy music, apps, books from the iBookstore, and associate it with iCloud (if you want to).
What's an Apple ID?: If you've ever purchased something from the iTunes Store, you'll have signed up for an Apple ID—it's usually your primary email address. Your login information for Apple's MobileMe or iCloud service should also work when signing in.
Use your current Apple ID: Already have an Apple ID? Tap the Sign In With An Apple ID button and enter your username (usually your email address) and password. Apple will then spend a few moments linking your device to your Apple ID.
Sign up for a new Apple ID: If you don't have an Apple ID, it's easy enough to create one by tapping the Create A Free Apple ID button. You'll need to enter your birthday, name, your email address (or create a new iCloud email address), a password, a security question (in case you forget your password), and whether you'd like to receive email updates from Apple.
No Apple ID for me: If you'd rather not set up an Apple ID, you can tap the Skip This Step link in the lower right corner. You can always add or create one from the Settings app later, but note that you won't be able to buy anything on the iTunes Store or set up iCloud until you do.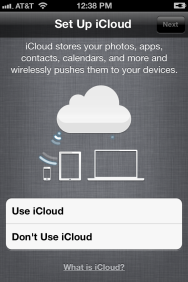 If you've chosen to set up or register an Apple ID, you can also enable iCloud on your device. iCloud is an umbrella term for Apple's collection of sync services, and allows you to sync your photos, apps, contacts, calendars, and mail across multiple devices. (You can read more about iCloud in our Getting Started with iCloud primer.)
Choose to set up iCloud, and you'll first be asked whether you'd like to enable iCloud backups for your device. If you do so, you can have your device back up all essential settings to your iCloud account; if you ever need to restore, you can do so over Wi-Fi without an additional computer. You can also elect to have your device back up to your computer using iTunes. Additionally, you'll be asked whether you'd like to opt-in to iCloud's Find My iPhone service. This will enable location monitoring for your device, allowing you to find it using your Apple ID and the Find My iPhone app, should it go missing.
Next, you'll be asked if you want to take advantage of Siri, Apple's new personal voice assistant. You can toggle Siri on or off from this initial setup screen, but you can always change your preferences from the Settings app at a later date.
Once you finish the setup process, you'll be asked if you'd like to send Apple anonymous diagnostics and usage information (similar to a desktop crash report). After that, your iPhone will be all set and ready for you to begin using.
Some quick setup tips
Now that your device is up and running, here are a few quick pointers.
Tweak your settings: Most of the underlying system information for your new iPhone—network settings, Mail, sounds, messages, restrictions, wallpaper, and more—is kept in the Settings app. As such, it's a good place to start when you're first getting acquainted with your device.
Set up iTunes sync: If you didn't restore from an older iOS backup, you won't have any music, video, podcasts, photos, or books on your iPhone. You can remedy that by connecting it with your iTunes library: Just plug your device into your computer via its included USB cable. (Once you've completed this initial sync, you can also set up wireless local syncing; check out our guide for more information.)
Explore the App Store: Your iPhone comes with a bunch of cool built-in apps, but you may want to reach outside the sandbox for more interesting fare. The App Store, which you can access on your device or via iTunes on your computer, features more than 500,000 downloadable apps. To explore the store on your iPhone, tap the blue App Store icon on your home screen. The store is divided into five sections: Featured (Apple's special picks), Categories (all iPhone apps, sorted by label), Top 25 (showcasing the top-purchased and downloaded iPhone apps), Search, and Updates (any third-party updates and patches will show up here for you to download). Featured and Top 25 are both great places to start looking for recommended apps, and you can search the entire App Store by tapping on the Search tab.
Talk to Siri: If you chose to set up Siri on your iPhone 4S during the activation process, you're just one press away from having your first conversation. Siri can help you book appointments, find restaurants, look up the weather, and occasionally whip out snarky quips about robotic AI. To start, press and hold your Home button; the Siri interface will appear, along with a few suggested phrases to get going.
What to do with an old device
Now that you've managed to transfer your old information, set up your new iPhone 4S, and start using it, it's time to figure out what you'd like to do with your old device. If you're interested in selling, recycling, or passing it along to a friend or family member, Macworld contributor Joel Mathis whipped up a handy guide that contains the steps you'll need. But what if you're interested in keeping it around?
Turn your iPhone into an iPod touch: No, your old iPhone won't make calls or hop on a 3G network without a data plan, but you can keep using it as a Wi-Fi only iOS device. To do so, you'll just need to keep the phone's old SIM card (or a cheap SIM card from the same service provide you originally used to activate the phone with) inside it. From there, you can restore it to factory settings, and set it up as a brand new device.
iPhone 4S family
Price When Reviewed:
$599