Since Lion (Mac OS X 10.7) was released, I've covered a few Gems for modifying its behavior, such as Lion Tweaks and Launchpad-Control. Among Lion Tweaks's options is a way to disable Lion's new Resume feature—which automatically reopens, whenever you launch an application, any windows that were open when you last quit that application—on a per-app basis. In other words, if you like Resume in most apps (so you don't want to disable the feature completely), but find it problematic in one or two, you can disable it for just those specific programs.
For example, here at Macworld, multiple people work on multiple versions of files. If an editor quits Word with a file still open, and a couple days later double-clicks a later version of that file, Word can launch with both the old and updated files open. If the editor isn't careful, he or she can end up working on the wrong version of the document. Disabling Resume for Word avoids such potential problems.
However, Lion Tweaks's method for disabling Resume for a particular application isn't exactly straightforward, as it requires you to figure out the application's unique ID—for example, com.barebones.bbedit for BBEdit—and then enter that ID into Lion Tweaks.
A simpler solution is RestoreMeNot. This free System Preferences pane, currently in beta, lets you easily disable the Resume feature for particular applications. Just click the Add (+) button, choose the application to be added, and click Open. If the chosen app is currently running, quit it and then launch it again for the change to take effect. It's that simple.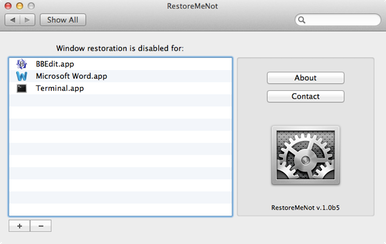 Note that RestoreMeNot is currently in beta, so it's not yet up to final polish. For example, it doesn't currently work with some apps, such as Adobe InCopy. The developer has stated on MacUpdate that improvements in the works include general enhancements, better handling of apps that don't officially support Resume, and localization in languages other than English. I'm looking forward to these improvements.
Want to stay up to date with the latest Gems? Sign up for the Mac Gems newsletter for a weekly email summary of Gems reviews sent directly to your Inbox. You can also follow Mac Gems on Twitter.