Facebook's free iPhone app long reigned at or near the top of the App Store's charts. But iPad owners were forced to rely on either Facebook's touch-optimized website or any of a slew of third-party apps to access the social network from Apple's tablet. That all changed in October, when Facebook unveiled the latest incarnation of its now-universal iOS app.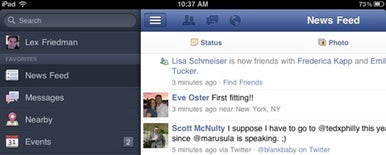 The updated Facebook app, particularly on the iPad, owes a debt of gratitude to the official Twitter app for iOS. Like Twitter, Facebook now employs horizontally sliding sheets to bring in additional information. Swiping from the left exposes the app's main navigation bar; swiping from the right brings in the chat module—though only in landscape mode, not portrait. I understand that limitation—there's only so much horizontal space—but that doesn't stop my addled brain from attempting to swipe to show it on occasion while orienting my iPad vertically.
When you first launch Facebook, you land on your News Feed. As on the website, you can switch from Facebook's algorithmically-determined Top News to Most Recent updates by tapping a button. But the Facebook app actually offers more options than the website: You can also choose to show only Status Updates, Photos, or Link posts.
Scrolling through your news feed works as you'd expect. As in previous incarnations of the iPhone-only version of the app, scrolling is endless; older posts load in automatically as you near the bottom of the screen. Pulling down from the top of your feed triggers a refresh.

On the iPad, however, the Facebook app makes odd use of space. In portrait mode, there's a wide gap between where statuses end and the icon for adding Likes or comments appears. If you slide in the navigation bar on the left side, the right margin of those posts instead gets cut off. In portrait mode, then, statuses have the unusual distinction of being simultaneously too wide and too narrow.
In landscape view on the iPad, Facebook always displays either the Chat module or the left navigation bar. (Your swiping determines which.) There's still a bizarrely wide gap between the artificial margin for posts and the right edge of the screen, though.
When you tap to see comments, they fold in from the right edge of the screen, which makes them easy to navigate. Occasionally, though, when I'd tap for comments while in landscape mode with the navigation menu displayed, the comments column wouldn't properly slide into view. Tapping around enough would fix the problem.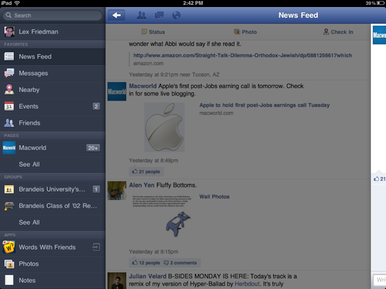 Odd layout choices aside, Facebook's app gets a lot right. As it does with comments, the app smartly doesn't bother refreshing the whole screen on the iPad when you tap to see friend requests, messages, or notifications. Instead, a iPhone screen-sized popover appears for each of those features, so you don't lose your place.
The left-side navigation bar is great, too. It includes a search bar that searches across your friends, groups, and Facebook pages, along with quick access to your saved groups, pages, and apps. There's also a link called Nearby, which is a bit of a misnomer; it shows your friends' latest check-ins, with a pretty cool map view. It's not quite as amusingly stalkerish as Find My Friends, but it's close.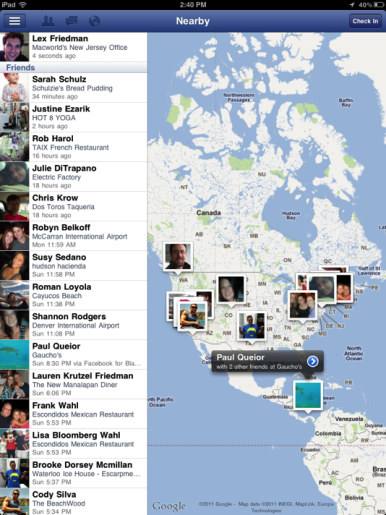 Once you get the hang of Facebook's navigation, it's pretty clever. You swipe from side to side to expose the navigation pane, but you can use that same swipe after you navigate a page or two deeper to go back the way you came. That is, if I tap on a friend's mention of another friend to go the second user's profile, and then tap on a Web link from that profile, a couple swipes from left to right take me back to where I left off.
So, despite a few quirks, the new iPad version of Facebook's app really achieves most of the features I wished for: Omnipresent links make it easy to jump to frequently accessed sections, chat is always available, and general news feed interaction is simple. And Facebook's decision to port as much of the new iPad functionality to the app's iPhone interface was a smart one; Facebook on the iPhone is now cleaner and quicker to navigate than ever before. That said, some of my Macworld colleagues report the occasional problem with the app—it's crashed for them or it's been slow to load. I never encountered that in my testing. Despite a few hiccups, Facebook for iOS offers an experience at least as good as the company's website for navigating the social network.
[Lex Friedman is a Macworld staff writer.]