Ah, technology—it gives us so many ways to listen our iPhones and iPads, including new AirPlay-enabled devices. But how do you listen to music while wearing a hoodie? Or riding a bike? Answers can be found in this week's roundup of iOS accessories.
Advanced MP3 Players: If you wished the latest fashions had more technology built in, never fear: The Hoodie Buddie offers the comfort and style of your favorite Saturday-afternoon workout gear, but with earbuds built right into the hood. You connect your iPhone or iPod touch to the headphones via a plug in the pocket of the clothing. The makers say the design prevents twisted-up earbud cables and promise that the earbuds themselves are machine washable. The Hoodie Buddie ranges in price from $32 to $48.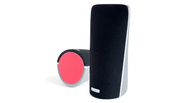 AQ Audio: This U.K.-based company has introduced the AQ Smart Speaker with Apple AirPlay. The wireless, portable speaker lets users stream audio from movies, YouTube clips, and more than 20,000 app-driven radio stations from your iPhone, iPad, or iPod touch. Each speaker can run up to 10 hours on its rechargeable battery, and two speakers working together can provide left-right stereo sound. Each speaker is £219 in the U.K.; there's no word on U.S. pricing or availability.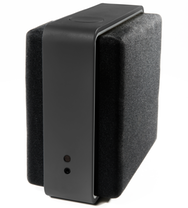 Audyssey: This lifestyle audio company on Wednesday unveiled its newest product, the $399, AirPlay-enabled Lower East Side Audio Dock Air. The system uses Apple's AirPlay technology to let you wireless stream audio from your iPhone, iPad, iPod touch, or Mac. Audyssey touts the system as providing powerful bass performance without the use of subwoofers, instead delivering sound through two tweeters, a pair of three-inch midrange speakers, and a pair of 4-inch passive bass radiators. The system is under 9 inches square, and just 5 inches deep, and weighs around five pounds. It ship in November.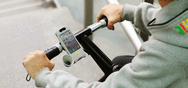 Bone Collection: The iPhone has replaced a lot of devices in its brief existence, but one thing we didn't expect to see it replace was the humble bicycle horn. We were wrong. Bone Collection's Horn Bike—first seen by our friends at TUAW—mounts your iPhone on your bicycle's handlebar, then amplifies the phone's speaker via a silicone "bugle horn" similar to (but smaller than) those found on old mono record players from the 1920s. The device requires no external power source, but offers bicyclists a way to hear music or voice-activated GPS instructions without plugging their ears with headphones in traffic. Bone Collection doesn't offer pricing information on its website, but does list retailers.
Bose: The $180 OE2i headphones from Bose are made just for your Apple devices. They come with an inline remote/microphone module that can be used with the iPhone, iPod touch, iPad, and even MacBook, MacBook Pro, iMac, and Mac mini models. The microphone can, of course, be used for phone calls with an iPhone, but users can use the remote on most devices to switch between music and calls, or control volume, playback, and voice applications such as Siri. The headphones feature a fold-flat design for easy storage, and the OE2i comes in black or white—the better to accessorize your Apple product.
Bracketron: We never knew there were so many ways to hold your iPhone without using your hands, but Bracketron keeps innovating. It's latest offering? The Cradle-iT Dash Mount, which, as the name suggests, lets you mount your iPhone on your car dash for use as a GPS device or music player. The suction-cup accessory can be moved between vehicles, and it offers a 360-degree pivoting head so that you can view your phone at any angle.
Lufdesign: It might be counterintuitive to be waving magnets near electronic equipment, but South Korea's Lufdesign makes the process adorable with its $7 Your Magnet. The small, horseshoe-shaped device attaches to the back of your iPhone and serves as a kickstand for hands-free viewing of the screen. The name is a little misleading, as Your Magnet actually attaches using a pair of tiny suction cups, but Your Suction wouldn't be a very catchy product name, would it? Although pitched to the iPhone crowd, Your Magnet can be attached to a variety of items. It comes in five colors: red, scarlet, chocolate, grey, or lime.
Pioneer: Pioneer is expanding its Apple-focused efforts with the AirPlay-enabled Music Tap line of speaker systems. Each system lets you dock your iOS device—both generations of iPad and most generations of iPhone and iPod touch models—as well as to stream music from iTunes, Pandora, Pioneer's own Air Jam app, or other AirPlay-enabled music apps. Music Tap models range in price from $399 to $479.
Quirky: You know how the sun makes your car mercilessly hot during the summer? Quirky puts nature's heater to your advantage with the $40 Ray solar charger. This device attaches, via suction cup, to the interior of your windshield and uses the sun's rays to power your iPhone via USB. Ray also comes with a kickstand, in case you want to do your solar-charging when you leave the car. The device is not yet available for sale; Quirky is currently taking pre-orders.
Scosche: If your USB-charging cable is too bulky and too easily gets tied in knots, Scosche's new ClipSync cable for iPhone and iPod models offers a solution. The $20 device is only 2.5 inches when closed, opening to provide a quick, short connection between your computer and your phone or iPod. The ClipSync comes in an aluminum finish and includes a carabiner clip that allows it to be attached to your belt loop, backpack, or any other convenient location.
Solio: Want to charge your iPhone in Earth-friendly fashion? Like the Ray, Solio's $70 Bolt Solar Charger lets your iOS device get its energy directly from the sun. The device has two high-efficiency solar panels that charge an internal lithium battery; when fully charged, that battery is capable of providing two full charges to your iPhone via USB.
USBFever: The $12 Tunepencil DrawPro is an odd-looking device: Rather than the pointy tip that you find on most styluses, this $28 offering appears to have a thumbtack stuck on the end. The company says this transparent spring tip provides more-precise drawing and writing motions than its rivals, with a feel that comes close to a pen on paper. The Tunepencil comes just like Henry Ford would like it: in one color, black.
Also new from USBFever: The $12 iWrench, a portable stand for propping up your iPhone for on-the-go screen viewing. The company has also unveiled a new line of lenses to attach to your iOS device's camera, with prices ranging from $19 to $40.
Updated 10/20/2011, 10am, to note U.S. availability of the Hoodie Buddie.
iPhone 4S family
Price When Reviewed:
$599