Record sales of both Macs and iPads helped Apple set new marks for quarterly revenue and earnings for its fiscal fourth-quarter.
The company announced Tuesday that it logged $28.27 billion in revenue and $6.62 billion in net profit for the three-month period ended on September 24. That's an increase of 38 percent in revenue and 54 percent in profit from the year-ago numbers. Apple earned $7.05 per diluted share, up 52 percent from year-ago earnings of $4.64 a share.
"We are thrilled with the very strong finish of an outstanding fiscal 2011, growing annual revenue to $108 billion and growing earnings to $26 billion," CEO Tim Cook said in a prepared statement.
Wall Street may be less thrilled: analysts were looking for the company to post earnings of $7.39 a share and revenue of $29.69 billion, according to Thomson Reuters. Still, Apple's results came in ahead of the forecast chief financial officer Peter Oppenheimer offered in July, when he told analysts to expect earnings of $5.50 per share and revenues of $25 billion during the fourth quarter.
However, Apple seems to have high expectations for the coming holiday season. Oppenheimer told analyst to expect December quarter revenues of $37 billion—that's a 38 percent jump from the $26.74 billion Apple recorded last year. Apple expects earnings per share of $9.30, up from $6.43 last year.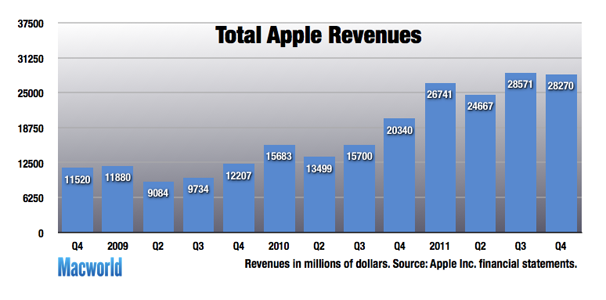 The September quarter marks the end of Apple's fiscal year, and 2011 proved to be a very strong one for Apple. The company says it sold 72 million iPhones, 32 million iPads, and 17 million Macs during the last 12 months.
Mac sales
Apple sold 4.89 million Macs during the quarter, which was a 26-percent jump over Mac sales during the fourth quarter of 2010. More significant, Apple set a new record for Mac sales in this past quarter, topping the 4.13 million computers it sold during the first quarter of 2011.
Mac sales grew at more than six times the rate forecasted by market-research firm IDC for the overall PC market, according to Apple.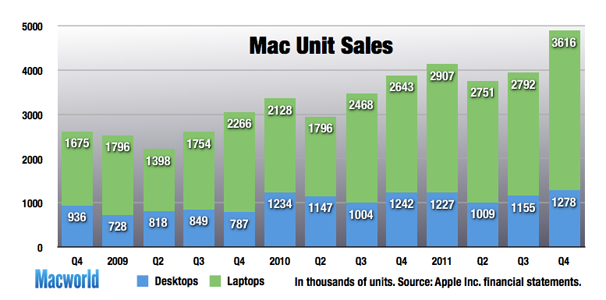 Much of that growth came from July's launch of the Thunderbolt-equipped MacBook Air, though Oppenheimer said the MacBook Pro continues to perform well. Portables now account for 74 percent of Apple's Mac sales.
Still, desktop Macs weren't totally ignored during the quarter. The 1.278 million desktops Apple sold during the fourth quarter represent a company record, Oppenheimer said. Credit for that goes to the iMac, which Apple updated in May.
The other significant Mac-related launch during the fourth quarter was Mac OS X Lion. During the call, Oppenheimer reiterated the previously stated figure that the updated operating system has been downloaded 6 million times since its July release.
Cook did sound a note of caution when fielding an analyst question during Tuesday's conference call about recent flooding in Thailand. Severe weather in that part of the world could impact hard drive production for companies like Apple that get computer components from Thailand.
"It is something I'm concerned about," Cook said. "We do expect there will be an overall industry shortage of disk drives as a result of the disaster. How it affects Apple, I'm not sure."
iPad record
Like the Mac, the iPad also enjoyed a record quarter, with 11.12 million tablets sold. That's a 166 percent jump over the 4.1 million iPads Apple sold during last year's fourth quarter.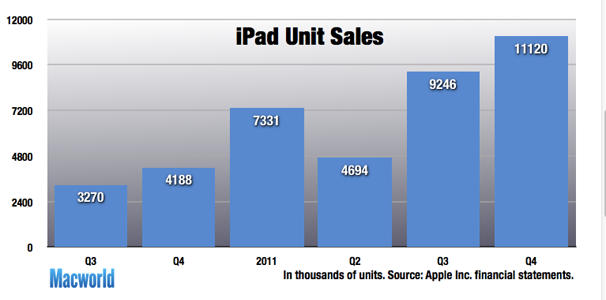 Apple launched the iPad 2 in another 28 countries; it's now selling the tablet in 90 countries around the world, with the tablet market representing a "huge opportunity," according to Oppenheimer.
"It's pretty clear that if you forecast out in time, that the tablet market will be larger than the PC market," Cook told analysts. Questioned again about the iPad taking away from Mac sales, Cook acknowledged some cannibalization, but pointed out that the tablet was capturing customers from other platforms as well.
"Some people are electing to buy an iPad rather than a Mac," he said. "A materially larger number are electing to buy an iPad instead of a Windows-based PC."
Recognized revenue from the iPad segment was $6.9 billion for the quarter. Apple tallied $2.8 billion in recognized iPad revenue last year.
The iPad does face growing competition, most notably from Amazon.com's newly launched Kindle Fire. Apple executives, however, expect to maintain the iPad's strong hold on the tablet market.
"When you assess this thing, with iOS 5, iCloud, iTunes, App Store, books, movies, and over 140,000 native apps for iPad, vs. a number in hundreds of the other guys, I feel very very confident about our ability to compete, and extremely confident in our product pipeline," Cook said.
iPhone figures
The iPhone enjoyed solid sales gains for the quarter. The 17.07 million phones Apple sold during the three-month period represented a 21 percent gain from last year's sales. Some analysts, however, were looking for the company to sell between 18 million and 20 million phones.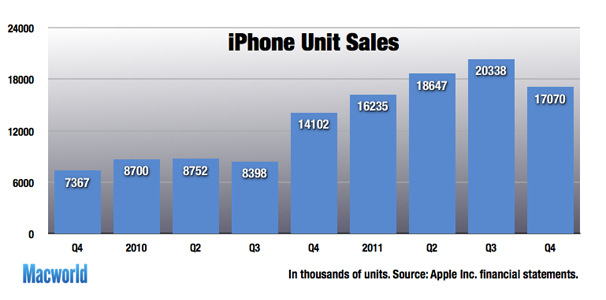 Still, Apple didn't seem too disappointed by the performance of its phone, which still recorded recognized revenue of a little less than $11 billion. That compares to $8.8 billion in the year-ago quarter. The company also said it enjoyed particularly strong iPhone sales in its Asia-Pacific region, where sales of the phone more than doubled.
Oppenheimer did concede that rumors of a forthcoming iPhone update put a damper on sales, especially later in the summer. After previewing iOS 5 at June's Worldwide Developer Conference—and slating the mobile OS for a fall release—Apple watched as sales declined in the latter part of the quarter.
"We opted to defer adding new carriers or countries, knowing that we would launch the 4S in October, and we wanted to launch them with our latest product," Oppenheimer told analysts. "That had some impact on the quarter. The biggest impact was the very pervasive rumors, especially in second half of the quarter."
It's worth noting that the fourth-quarter figures don't contain any numbers from last Friday's release of the iPhone 4S. Apple has said that sales of the new phone topped 4 million during its opening weekend.
"I'm confident that we will set an all-time record for iPhone this quarter," Cook told analysts during Tuesday's conference call.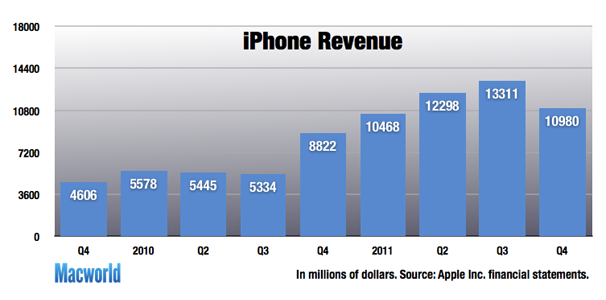 Currently available in seven countries, Apple plans to roll out the phone to 22 new countries by the end of the month. By year's end, the iPhone 4S should be selling in 70 countries. The addition of Sprint as a wireless provider in the U.S. means that 230 carriers now support the iPhone in 105 countries.
Apple is in the midst with a series of legal battles over the iPhone, most notably with Samsung and other makers of Android handsets. That prompted a question from one analyst about the ongoing litigation, but Cook declined to go into specifics.
"We spend a lot of time and money and resource in coming up with incredible innovations," Cook said. "We don't like it when someone else takes those. And so that's why we unfortunately have been pushed into the court system as a remedy to that."
iPods and music
iPod sales continued their decline in the quarter. Apple said it sold 6.6 million iPods, a drop-off from the 9.1 million it sold in the same quarter last year. Still, those sales were ahead of Apple's expectations, Oppenheimer said.
The iPod touch accounted for around half of the iPods sold during the quarter. Apple says it still enjoys a 70 percent share of the music player market and that the iPod remains the top-selling MP3 player in most of the countries the company monitors.
Apple got much better news from its iTunes segment, which tallied record revenue of $1.5 billion. In particular, Oppenheimer said the company is pleased that its iBookstore is growing in popularity—customers downloaded 180 million books during the quarter.
Retail efforts
Apple opened 30 new stores during its fourth quarter, with 21 of those opening their doors outside of the U.S. The last weekend of the fourth quarter was particular busy for Apple's retail efforts: The company launched seven stores in six countries, including its first outlet in Hong Kong.
That Hong Kong store as well as a new retail effort in Shanghai are particularly noteworthy, as Apple's six outlets in greater China are among its highest trafficked.
Cook noted that China made up just 2 percent of Apple's business in 2009; it's grown to 12 percent this fiscal year. The company saw $4.5 billion in revenue from China in the fourth quarter alone, making it Apple's fastest-growing major region by far.
"This is clearly a giant market for Apple, and one that's ripe for sales to consumers," Cook said.
All told, Apple's retail stores generated $3.6 billion in revenue. Oppenheimer said that strong year-over-year growth in Mac and iPad sales through the company's stores was offset by a decline in iPhone sales, as customers held out for Apple's smartphone update. About half of the 1.1 million Macs sold through the stores in the fourth quarter were to first-time Mac owners.
Look for Apple's retail efforts to continue an international bent in 2012. The company plans to open 40 stores next year; three-quarters of those will be outside the U.S. Apple is also looking to "expanding and replacing" high-volume stores that Oppenheimer said were "too constrained to deliver the expected customer experience."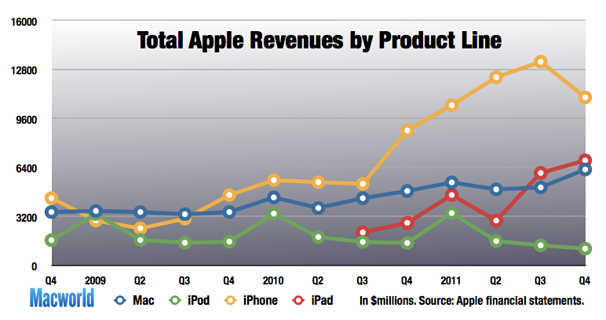 Other notes
Apple ended the quarter with $81.6 billion in cash and short-term investments on hand. That's up from $76.2 billion at the end of the June quarter.
Tuesday's conference call was the first earnings announcement since Steve Jobs resigned as the company's CEO in August. Cook, who succeeded Jobs, began the call with a tribute to Apple's co-founder, who passed away earlier this month after a long battle with pancreatic cancer.
"The world has lost a visionary and an amazing human being," Cook told analysts. "Steve was a great leader and mentor… His spirit will forever be the foundation of Apple, and we are dedicated to continuing the amazing work that he loved so much."
Updated at 2:26 p.m. PT with more details on Mac sales and forecasts for the first quarter of 2012. Updated at 2:35 p.m. PT with iPad sales figures. Updated at 2:49 p.m. PT with iPhone sales figures. Updated at 3:10 p.m. PT with iPod and retail figures. Updated at 3:30 p.m. PT to add quotes from Tim Cook and Peter Oppenheimer. Updated at 4:04 p.m. PT with comments on China, Thailand, tablet market. Updated at 11:39 p.m. PT to correct a comment about the iPad that should have been attributed to Tim Cook.