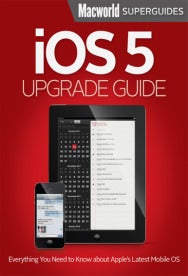 iOS 5 has hit the stage, and eager users everywhere are getting ready to upgrade their devices. If you're concerned about the upgrade process, or simply want to know all your setup options before making the big switch, let the editors at Macworld help you upgrade your iPhone, iPod touch, or iPad with this step-by-step guide, available on the iBookstore and Kindle Store for $2.99.
Want to upgrade to iOS 5? We lay out which devices will run Apple's newest mobile OS, and how to download and install it. Once you've gotten the software on your iPhone, iPod touch, or iPad, we'll walk you through its marquee features: Master new multitasking gestures on the iPad 2 and explore Notification Center; play with Apple's three new apps, Reminders, Messages, and Newsstand; learn about improvements to Safari, Mail, Camera, Photos, and Game Center; check out the smaller tweaks made to Maps, Calendar, Music, Videos, FaceTime, Weather, and Stocks; and discover what's been done under-the-hood in regards to Twitter integration, new typing tricks, AirPlay mirroring, and Accessibility.
If you're confused about Apple's new sync service, iCloud, never fear: Our iOS 5 Upgrade Guide also offers a rundown of the service and each of its features, as well as a step-by-step guide for setting it up on your device. And for those who wish to untether their iOS device from their computer, the guide explains how to take advantage of iOS 5's Wi-Fi Sync and eliminate cord-based backup and information transfer.
To read the book on your iPhone, iPod touch, or iPad, you can purchase it from the iBookstore in the U.S. for just $2.99, or in one of the 31 other countries now supported. You can also pick it up from Amazon's Kindle Store, if you'd rather read it on your e-ink device.
We hope you have fun exploring iOS 5! For those with an iPhone 4S in hand, keep an eye out for our free iPhone 4S Starter Guide and full iPhone 4S Superguide, coming soon. For now, check out our other Superguide books, including our Total Lion Superguide and iPad 2 Superguide. We're also offering discounts on 16 popular Superguide titles in book or CD format.