Apple usually plays its cards pretty close to the vest when it comes to product predictions. Not on Tuesday—when discussing his company's fourth-quarter performance with analysts, Tim Cook made a bold statement about the quarter to come.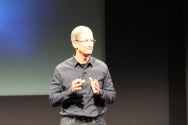 "I'm confident that we will set an all-time record for iPhone this quarter," Apple's CEO said—a prediction he repeated several times during the call.
Apple is certainly off to a strong start in making good on Cook's forecast. The iPhone 4S went on sale last Friday and promptly topped the 4 million mark for phones sold in its opening weekend. That doubled the sales total racked up by the iPhone 4 when it debuted in 2010.
Demand is clearly high for Apple's first major phone overhaul in 15 months. Apple took 1 million preorders for the iPhone 4S in the first 24 hours that the phone was available. This week, it implemented a reservation system for customers eager to get their hands on the new phone.
Smartphones have become big business for Apple. According to figures released by the company Tuesday, Apple sold more than 17 million iPhones during its just-completed fiscal fourth quarter. That brought in $10.98 billion in recognized revenue for the company.
Still, iPhone sales were not as strong as they could have been during the quarter. Some Wall Street analysts were looking for Apple to sell between 18 million and 20 million phones between July and September—a shortfall that Apple executives blamed squarely on the build-up in rumors over the summer that a new phone release was imminent.
"We opted to defer adding new carriers or countries, knowing that we would launch the 4S in October, and we wanted to launch them with our latest product," Apple chief financial officer Peter Oppenheimer said Tuesday. "That had some impact on the quarter. The biggest impact was the very pervasive rumors, especially in second half of the quarter."
Would Apple have sold more iPhones during its fourth quarter had consumers not been anticipating a new release? Cook told analysts that he couldn't give a number on how many phones Apple might have sold if expectations were different, "but I believe it was substantial."
"That's why we called it out," he added. "Anyone monitoring the press would make the same conclusion."
It's clear Apple thinks it has a winner on its hands with the iPhone 4S. Both Cook and Oppenheimer touted the phone's A5 processor, camera improvements and Siri voice-control feature during Tuesday's call with analysts. But the company sees potential beyond just the early adopters looking to upgrade to the latest phone.
Specifically, Cook pointed to the size of the handset market, which he said covers about 1.5 billion phones. The smartphone segment, in contrast, is about 400 million. That's potentially a large number of users who might upgrade to more fully-featured phones, and Apple wants them to think of the iPhone first.
"We want iPhone in an as many customers' hands as possible, since we believe it's the greatest phone by far," Cook said. "We aspire to much larger volumes."
That may explain why the iPhone 4S isn't the only offering in Apple's smartphone lineup. The company continues to sell the iPhone 4, which is available for $99 to customers who sign a two-year contract with Sprint, Verizon, or AT&T. The iPhone 3GS remains on the market as well, despite the fact that Apple introduced it more than two years ago. But it's now a free phone so long as you sign up for two years of service with AT&T—a fact that could appeal to feature phone users looking to step up to a smartphone without spending a lot of money at the outset.
Apple can point to a track record of 3GS price cuts attracting new users. In some countries, the price of the iPhone 3GS dropped during the September quarter so that Apple could see what happened in prepaid markets. Cook said the company was "very pleased" with the results—hence the move to offering a free iPhone 3GS in the U.S.
iPhone 4S family
Price When Reviewed:
$599