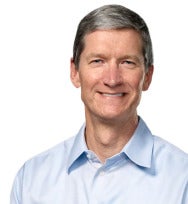 [Tim Cook may be Apple's CEO these days, but he continues to take part in the company's quarterly conference call with Wall Street analysts, just as he did when he was chief operating officer. Here's an edited transcript of some of the things Cook had to say, as Apple announced record profits and sales for its fiscal fourth quarter of 2011.]
On Steve Jobs's passing
This is our first earnings call since the passing of Steve Jobs. The world has lost a visionary, a creative genius, and an amazing human being. Steve was a great leader and mentor and inspired everyone one at Apple to do extraordinary things. HIs spirit will forever be the foundation of Apple and we are dedicated to continuing the amazing work that he loved so much. Only Apple brings together software and hardware experiences into such a powerful and integrated experience for its customers. As we move forward we will continue doing that with relentless focus. I'd like to take this opportunity to express our gratitude to all of the condolences we've received since Steve's passing.
On the iPhone 4S
We've gotten off to a great start with the 4S. We've sold over 3 million only three days after launch so we are thrilled with the start that we've had. We're confident that we will have a large supply, but I don't want to predict when supply and demand might balance because the demand is obviously extremely high right now. I'm confident that we will set an all-time record for iPhones this quarter.
If you look on a sell-through basis, the sequential comparison is down 2.4 million units… That 2.4 was much less of a reduction than what we were expecting and was a large factor in our revenue exceeding our guidance by over $3 billion. We expected to be greater than 2.4 because we knew that there was great anticipation of a June or July new iPhone since that was the pace we had been on in the last several years. And as we predicted that sell-through did occur in the quarter, but not nearly to the extent that we thought. We significantly beat our guidance. The reduction happened significantly in the back quarter as the [iPhone 4S] speculation hit extreme highs. However, we are thrilled to be shipping the new iPhone 4S and iOS 5 and iCloud, and we are very confident that we will set an all-time record in the December quarter for iPhone sales. In our wildest dreams, we couldn't have gotten off to a start as great as we have on the 4S.
On China
The China progress has been amazing. If you look at our China revenue it represented just 2 percent of Apple in our fiscal year 2009, and in this fiscal year we just ended it accounted for 12 percent. And if you just look at the quarter we just ended, it accounts for 16 [percent]. It's our fastest growing major region by far. It delivered $4.5 billion revenue of our current quarter and that's up almost four times or 270 percent year over year. That brought the total revenue for the fiscal year to over $15 billion. To further put that in context, a year ago in [2010], we were right above $3 billion. It is growing at a feverish pace.
We have placed new retail stores there. We now have six in greater China. Our online store opened at the end of last year—we haven't had our one year anniversary yet. We have over 200 mono-branded stores which we call APR, which are resellers and are a premium shopping experience. We are now up to 7000 points of sales on the iPhone in greater China. We are continuing to make investments in this.
How far can it go? In my lifetime I have never seen a country that has as many people rising into the middle class that aspire to buy products that Apple makes. And so it's an area of enormous opportunity. It has quickly become number two on our list of top revenue countries very quickly, and we're obviously placing additional investment and building more stores there as well as doing quite a few other things to continue to deliver great products to the people of China.
We're also placing additional focus on other areas that have shown great promise over this fiscal, such a Brazil which was up 118 percent year over year and went over the $900 million mark. Russia is beginning to look more and more promising, and, as I mentioned on the last call, the Middle East. So there are several of these markets that Apple has historically not been strong in that the iPhone has really opened up, and introduced Apple to a whole set of customers that get excited about other products we have. The iPad will be doing the same. In China, the sky is the limit there, but I wouldn't discount other places I've mentioned as well.
On manufacturing strategies and margin flexibility
We have an outstanding team in this area and a track record that is unparalleled in the industry. We keep on trying to improve it all the time. We use our balance sheet in a favorable way to do strategic deals on different parts that we feel are very important to Apple across a series of products. As we get larger, there are some areas where we've elected to diversify some. However our approach has been [and] I think will always be to do business with as few people as we can, so we can be very deep with them and do great innovative stuff together. You can't tend to do that when you go out to many people. I think they give us great quality and reasonable prices, and that winds up helping our margin.
On tablet competition and the Kindle Fire
We had an outstanding quarter setting the record doing over 11 million, at the same time setting a Mac record which is phenomenal in itself. We've seen several competitors coming into the market to try and compete with the iPad over time. Some had different form factors or different price points, and I think it's reasonable to say that none of these have gained any traction thus far. And in fact, as all of the competitors came into the market, our shares went up, such that in the June quarter, IDC reported that we were responsible for three out of four tablets sold. I think when you really assess this thing and look at iOS 5, iCloud, the ecosystem with iTunes, and the App Store, books and movies, and the fact that we have 140,000 native apps for iPad versus the hundreds for the other guys, I feel very confident about our ability to compete and extremely confident in our product pipeline.
On the tablet market
We thought from the beginning that it would be a huge market and it has been even greater than we thought. We've now sold 40 million on a cumulative basis. It's pretty clear to me that if you forecast out in the time, that the tablet market will still be larger than the PC market. That's not a guidance number, that's just something I very much believe. There will be many more people who can access it and the ease of use is so phenomenal that it is off the charts and is a huge opportunity for Apple over time.
On iPhone 4S velocity
We can't tell you with precision how many units we would have sold had there not been rumors and people weren't expecting an new iPhone. I certainly believe it was substantial. That's the reason that we called it out. I think anyone monitoring the press knows this, you can probably talk to a group of customers and get the same answer. I think the 4S is off the charts. If you do a comparison of the three days after launch of last year on the iPhone 4 we came in at 1.7 million; this year we were over 4 million in the same time frame and so that's the mother of all uplifts. We're thrilled with how we've gotten started. The feedback we're getting from customers is fantastic, so I couldn't be more pleased with where we are.
On Siri
The number of people using it already is amazing. The asking it questions and so forth and the personality it has it incredible. We see this as a profound innovation, and I think over time that many people will use it in a substantial way. What percent of their input will be by that and what percent of the searching, I don't know. It is substantial and an incredible innovation, and that's the feedback we're getting from customers.
Issues in Thailand
Our hearts go out to all the people in Thailand that have experienced this devastation of life and property due to the monsoon and flooding. Like many others, we source many components from Thailand and have multiple factories that supply these components. There are several factories that are not operable, and the recovery time is not known at this point. The weather hasn't really allowed an ability to assess that. From the work that we have done, our primary exposure is on the Mac. The number of drive components that are sourced in Thailand is a significant portion of our worldwide drives. I can't give you a precise accounting, but it is something I'm concerned about. I'm almsot certain there will be an industry shortage; how it affects Apple I'm not sure.
On patent disputes
I don't want to comment on any particular litigation. It's our policy not to do that. We spend a lot of time and money and resource in coming up with incredible innovations, and we don't like it when someone else takes those. And that's why we unfortunately have been pushed into the court system as a remedy to that. I don't want to comment about any particular lawsuit.
On iPhone price reductions
We did it because we wanted to make the iPhone more accesible to a broader market and so not only did we take the 3GS to free on a post-pay basis, but we also lowered the price on the iPhone 4 to $99. We've done both of those because as we looked at it, these are still fantastic products and we think that we can do reasonably well selling those in the post-pay market. It also has the advantage of having a lower price in the pre-pay markets, not free and $99, but lower than those entry points were previously. Both of those markets are very important to us. It has been our thinking for a while to do that.
On overseas market and the iPad
We are in 90 countries on iPad. We have about 40,000 points of sale around the world. To put that in context, we have about 50,000 on iPod and 120,000 on iPhone, so you can get a feel for the extent of the rollout there. There are still countries left to do, but we are in the main countries with iPad. Do I think there was a slow down on iPad? With the iPhone numbers, it's crystal clear that there was a slowdown—that is not the cae with iPad.
Where I believe we are with supply and demand point of view: Somewhere during the quarter we entered a supply-and-demand balance and remained there for the balance of the quarter. In the last call, I said we were coming into balance in a few countries and sometime thereafter I think we went into SD balance around the world. And you can look at the share numbers that third parties have reported, and we are doing extremely well there. We couldn't feel better honestly. The extend of the usage, the Comscore group that 97 percent of the web usage of tablets in the U.S. is from the iPad. It's mind boggling. We feel very good about that.
In terms of other countries outside China, we have already place efforts in the place that I mentioned. It's not something we are starting next week it's something we've already done. Obviously we wouldn't have done over $900 million in Brazil with no effort. There are some countries in the world that have protectionist type structures where the prices of the goods are extremely high if there's not local content involved so we will asess each of those and will decide what's in our best interest. The basic approach are the same as the game plan we used in the China. It's just a matter of the rate and pace of the rollout and whether to involve every one of the things we did in China. In China, we picked everything that we knew to do, we are building retail, we went in with an online store building, we are building an APR channel and a third-party channel. We're doing significant advertising, everything we do in the U.S., we're doing in China. We would not be doing that in each of the countries I named. We would be doing portions of that and have already started to achieve numbers we did last year.
On iPad cannibalization
I do believe that we are seeing cannibalization, it's showing up in two ways: some people are electing to buy an iPad rather than a Mac. However I believe a larger number of people are electing to buy an iPad instead of a Windows-based PC. Despite this, the Mac had the best quarter by far last quarter, even having the best quarter on the iPad, the Mac had its best quarter ever. With cannibalization like this, I hope it continues.
On Apple's cash flow
Today as you know we wanted to maintain flexibility. I think that everyone that knows us knows that cash isn't burning a hole in our pocket. We aren't the type of people to do silly things with it. We invest it conservatively. If you look at [treasurer] Gary Wipfler and his team's track record, they've done a phenomenal job in a extremely difficult market in the last few years.
We've also taken money and done things with it that are in Apple's best interest. We've acquired several companies, we've acquired IP, we've invested in the supply chain, and we use money to build out our stores and provide for a lot of new product tooling. The cash that we do spend, we're doing an extremely good job of it, and we're very frugal about using it and using it in the right places. That said, I'm not religious about holding cash or not holding it, I'm religious about a lot of things but not that one. We will continually ask ourselves what's in Apple's best interest and always do what's in Apple's best interset. It's a topic for the board on an ongoing basis, and we'll continue to discuss it.
I think that anyone from my point of view sees that cash is always a topic and will conclude to spent it in Apple's best interest. I think that we've done that so far, if you look at where we spend it, I think you'd agree.
iPhone goals
We want the iPhone to be in as many customers hands as possible because we think it's the greatest phone by far. That's why we live to do that. We aspire to much larger volumes than where we are. We think the smartphone market with eventually absorb the handset market. The handset market is a huge market, it's 1.5 billion handsets, and the smartphone market is a bit over 400 million or so. There's a huge growth in the smartphone market, and we think we can grow with the sector. The big win will be to eat into the 1.5 [billion]. You can tell that with the moves we've made recently.
On Japan
A huge percentage of Japan's total revenue in the year-ago quarter was from the iPhone 4 launch, it was the iPhone 4's first quarter. When you do a year-to-year compare, that adversely affects the revenue compare. The Mac, however, had an incredible quarter growing at 48 percent in a market that is barely growing at all. So we gained significant share on the Mac side of the business, the iPhone was a negative year-over-year compare, but we have gotten off to an unbelievable start in Japan—it was one of our first seven countries. It's very clear that Japan is another example of the delay that we were speaking of earlier.
Carriers receptivity of iPhone pricing change
If you look at the channel inventory on iPhone that was there at the end of September 24, there were 5.75 million. Over half of that has already sold through. So one portion of the things driving that is the elasticity question you're getting at. What we also did in a very few countries last quarter is drop the 3GS price a bit early, particularly in some of the prepay markets and were extremely pleased with the results. It gave us even more conviction to follow through with the plan change we made over in October.