China has become Apple's second-largest market behind the U.S., with revenues increasing almost four times year-over-year for this past quarter, according to company CEO Tim Cook.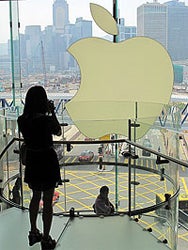 Cook made the statements during an earnings call on Tuesday. For this past quarter ending Sept. 24, Apple saw $4.5 billion in revenue generated from "Greater China", which includes the mainland China, Hong Kong and Taiwan. The $4.5 billion accounted for 16 percent of Apple's total revenues for the quarter, up from just 2 percent in Apple's 2009 fiscal year.
The Chinese market has been Apple's fastest growing major region by far, Cook added. Along with six official Apple stores in Greater China, the company also has resellers with 200 stores selling Apple products.
Apple has previously said the company is just scratching the surface of the Chinese market. For the first three months of 2011, iPhone sales in China were up year-over-year by 250 percent.
Apple's business in China began to reach new heights after the company launched its iPhone 4 in the country in September of last year. The release of the product generated long lines outside of Apple stores in Beijing, creating shortages for the iconic phone. Demand for Apple's iPad 2 has also been high, with the device dominating China's tablet market.
Apple's brand is also one of the most popular in China, and often seen as a kind of status symbol among consumers, according to analysts. While Apple has not said when it will begin selling its iPhone 4S in China, the device is already available for sale in the country's gray market, with prices reaching as much as $2,000.
In Tuesday's earnings call, Cook said Apple will continue to build more stores in order to tap the market, noting that in China, "the sky is the limit."