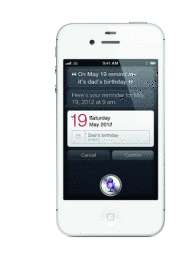 The most talked-about—and talked-to—capability offered by the newly released iPhone 4S is the Siri voice-command feature. Available only with the iPhone 4S, Siri listens to your commands to perform tasks, read back messages, and look up information, among other abilities.
Users aren't the only ones intrigued by this voice-activated personal assistant; third-party app makers want in on the action, too. And while Apple hasn't made Siri integration available to other developers just yet, that hasn't stopped some companies from touting their use of the new technology in their iOS apps.
MailShot Pro, a $4 group-mail app from Peter Johnson, is letting users know how they can make Siri send group e-mails. The app itself syncs the e-mail groups you create back to the Contacts list on your iPhone 4S. MailShot Pro users need only to instruct Siri to send email to the group name they've created in the app, and the integration is complete.
Tweets Aloud has been notable, until know, for turning your Twitter feed into a sort of iOS radio station. Now VoizApp, maker of the $2 app, says that users can speak their own tweets into the app and broadcast them. The functionality is apparently tricky—VoizApp warns users that "Siri misses what you said sometimes." It's not clear whether Tweets Aloud integrates directly with Siri, or through iOS 5's newfound Twitter integration.
Remember The Milk, the venerable reminder app, might face some competition from Apple's new native Reminders app in iOS 5. Instead, the developer has added a section to its website showing users how to integrate the app with Siri. (See the video below.) Users must go to their phone's Settings, and then tap Mail, Contacts, Calendars -> Add Account -> Other- > Add CalDav Account. Once you've reached that last page, enter the RememberTheMilk.com URL, along with your username and password. When you return to the Mail, Contacts, Calendars screen, tap on the "default" list, and add Remember the Milk.
Siri app integration seems likely at some point—before it was bought by Apple, the old Siri app integrated with as many as 35 APIs, and developers apparently planned to expand that list. But it's possible that Apple will use the tool to create its own business opportunities; Business Insider reported last week that BMW is interested in integrating Siri into its cars, presumably by offering remote voice-activated instructions to start the ignition or lock the doors.
Until Apple loosens the reins, however, it's likely that app developers and adventurous iPhone users will continue to seek workarounds to make Siri work with their existing software. Apple may be famous for its " sandbox" approach to software, but that approach has also given us jailbreak culture. Siri's voice-activated technologies likely won't be an exception.
iPhone 4S family
Price When Reviewed:
$599