Black Pixel announced on Wednesday that it has acquired file-comparison tool Kaleidoscope and Subversion client Versions, two apps originally created by Mac developer Sofa. Earlier this year, Sofa was acquired by Facebook, leaving many wondering about the future of the company's apps. But now the other shoe has finally dropped.
"This is an opportunity to participate in something great, and to really contribute meaningfully to it," said Black Pixel CEO Daniel Pasco in an email to Macworld. "Imagine being an aspiring guitarist and getting the opportunity to join a band you've idolized for years: You'd jump at the opportunity and totally pour your heart into the effort. That's how this feels to us."
This isn't the first time Black Pixel has picked up a wayward Mac app. In June, the company bought RSS reader NetNewsWire from independent developer Brent Simmons. The company just released its first update of the venerable app, NetNewsWire 3.3.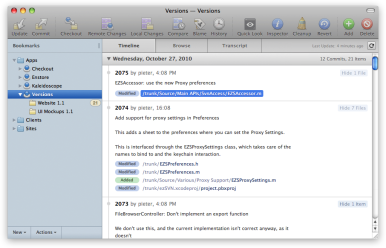 Black Pixel chief creative officer Dave Wiskus told Macworld that the opportunity to acquire Sofa's apps came about somewhat serendipitously. "It just so happened that the news broke about Facebook acquiring Sofa at the same time as our announcement about acquiring NetNewsWire. We were already in the mindset of looking to our heroes for inspiration, so the chance to be passed another torch felt right to us."
That's not to say that Black Pixel sees itself solely as a place for orphaned apps. "As it stands, we feel like we've really lucked out," Pasco said. "All of these applications are ones that we feel passionate about. They constitute a family of applications we can invest in and expand on."
Admittedly, there's a lot of history associated with these acquisitions. Like Simmons and NetNewsWire, Sofa and its products were highly regarded within the Mac community, with Versions even taking home an Apple Design Award in 2009. No surprise there, given that Facebook felt it imperative to snap the company up. At the time, Sofa noted that Versions and Kaleidoscope were not part of the deal with Facebook, and that it was "committed to securing a great future for them outside Sofa." Two of Sofa's other apps, Enstore and Checkout, will also live on; they've been acquired by Acclivity, developer of AccountEdge, as the basis for a new New York City-based development studio.
In terms of future plans, Black Pixel's Pasco told Macworld that the company is "in the process of developing roadmaps, with input from Sofa and the existing user community, for both applications." Pasco says it'll take some time for the Black Pixel team to get up to speed with the products, though there's a definite plan for moving forward. "The Sofa team has suggested a few different under-the-hood improvements we should probably make up front, which would be a great way to get our developers getting some serious time with the code while the design team plots out the road ahead."
According to a blog post on Black Pixel's site, Wiskus will be overseeing the product roadmap and design for both applications. Wiskus also wrote in the post that the company was working with Sofa to "ensure that current and future customers continue to see the level of care, quality, and service that they've come to expect."
"These were apps that we already used and loved, just like NetNewsWire," Wiskus told Macworld via email, "and we wanted to make sure they found a good home. Plus it's nice to launch a product division with products that are already well-loved." And no matter what the programs' origins, Pasco said that Black Pixel's goal remains constant: "To provide great, useful applications that are accessible enough for non geeks to use, and powerful enough for nerds to use, and beautiful enough for everyone to love."