Most of the features in Cards ( ), Apple's new iPhone app for creating and mailing personalized letterpress photo cards, are pretty straightforward. But there are a few tucked-away niceties you might not discover right away.
Push notifications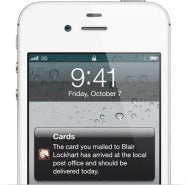 When you first launch Cards, you see the familiar iOS notification that the app would like to send you push alerts. But why? What could Cards possibly need to notify you about? Sadly, it's not a reminder about your Aunt Matilda's upcoming birthday. Instead, Cards can send you a push notification when your mailed greeting is on the U.S. Postal Service mail truck for delivery.
That's because Apple prints a bar code on the envelope before it sends your card—specifically, a USPS Intelligent Mail code. When your envelope is set to be delivered, the post office scans the code, and your push notification is triggered.
Location, location, location
The Cards app includes one travel theme that inserts a virtual ticket atop your photograph. When you use that theme, the app automatically detects your current location and digitally inserts it on the ticket. Even better, when you add your photo, Cards looks for any GPS data associated with the image, and updates the location accordingly. That way, if you only remember to send a card from your European vacation when you're back in the States, the shot of you holding up the Leaning Tower of Pisa won't claim you snapped the photo in New Jersey. Five other travel templates use the same location data to pre-populate the cards' default text (as in "Greetings from San Francisco!").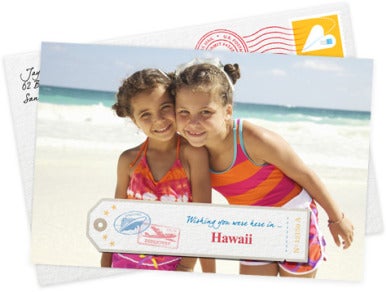 The location lookup is pretty smart: If you prepare a card from outside Space Mountain in California, the ticket will read "Disneyland" instead of simply "Anaheim." And, of course, if you prefer to change the location manually, you can do that, too.
Edit everything
Although Cards contains just 21 templates, many of the options are generic enough to fit many occasions. Thus, if you choose a card that says "Happy Birthday" on the front, you can tap the text and change it to "Get Well Soon" if that suits your needs better. Any printed text you see on a card can be changed, meaning your options are essentially unlimited.
Updated 10/26 to correct the number of templates with location-aware themes.