Canon has announced the Canon EOS-1D X DSLR, a high-speed, 18-megapixel camera that replaces the company's EOS-1Ds Mark III and EOS-1D Mark IV models. Aimed at professional photographers and cinematographers, Canon's latest offering features increased speed, a brand new image sensor, a high density AF (auto focus) system, and more.
The camera's current list price is $6,800 (for body only) and it is scheduled for release in March 2012.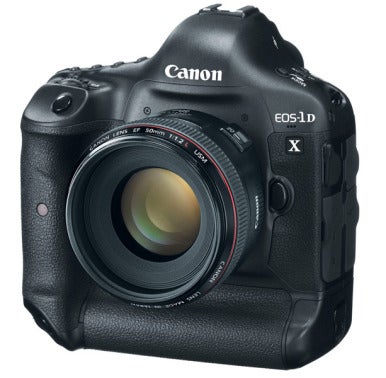 According to the company, the EOS-1D X represents a reinvention of the EOS-1D series. The camera includes three DIGIC image processors, including a new Dual DIGIC 5+ processor that works at 17 times the speed of its predecessor, the DIGIC 4. The camera's 18-megapixel full-frame image sensor is also new to Canon's EOS line, and utilizes large pixels for enhanced light gathering and less noise. Users can adjust between a huge ISO range—from 100 to 51,200, while extended ISO ranges from a low 50 to a super high 204,800.
The EOS-1D X includes Canon's most sophisticated DSLR AF system to date, the company says. It features 61 focusing points; greater low-contrast subject detection; a Configuration Tool for customized setting of tracking sensitivity; a built-in Feature Guide to advise photographers on which settings to use; six AF point selection modes; and more. The new iTR (Intelligent Tracking and Recognition) and face detection technology is designed to be particularly useful for wedding and sports photographers. The camera is also the first EOS DSLR to feature Canon's Multiple Exposure capability, which combines up to nine individual images into a single one.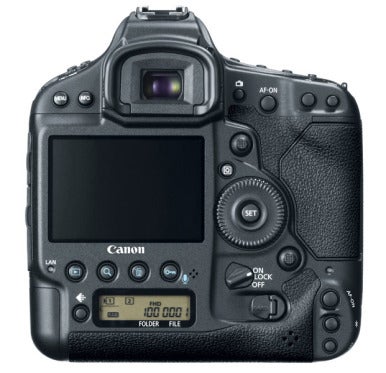 Video
Users can capture full HD video, at 1920 by 1080. For video recording, the camera offers frame rates of 24p, 25p, or 30p with 720p HD or SD recording; manual audio level control; a wind filter; and options to record via an internal microphone or an external microphone through the stereo mic input. Canon also touts the camera's ergonomics—the button configuration is designed to feel comfortable in your right hand. For more rugged or outdoor shooting conditions, the camera has some weather resistance features as well.
New accessories
Canon will release two new accessories built for the EOS-1D X. The WFT-E6A Wireless File Transmitter enables photographers to wirelessly transfer images, synchronize clocks on multiple cameras, and support linked shooting using multiple cameras. The Canon GP-E1 GPS Receiver provides an electronic compass that records camera direction when shooting and logs the camera's movement (users can later view these logs on a computer after shooting). The Wireless File Transmitter will be available in March 2012 for $600, and the GPS receiver is expected in April 2012 for $300.
Canon EOS-1D Mark II Digital SLR Camera