With November's National Novel Writing Month fast approaching, aspiring authors everywhere are preparing to put words to pages. If you plan your novels with military precision, Mariner Software's StoryMill 4.0.4 could be the right ally to launch your literary assault. However, writers who engage in a more freeform approach might find the program's data-heavy approach confining, and those craving even more power and functionality might not find it here.
StoryMill builds your novel from individual scenes. Once written, you can rearrange these chunks of story on the fly, either from the program's convenient left-hand sidebar or its innovative Timeline. You can also rename scenes in the sidebar, but oddly, not in the label bar that appears atop each scene's editing window.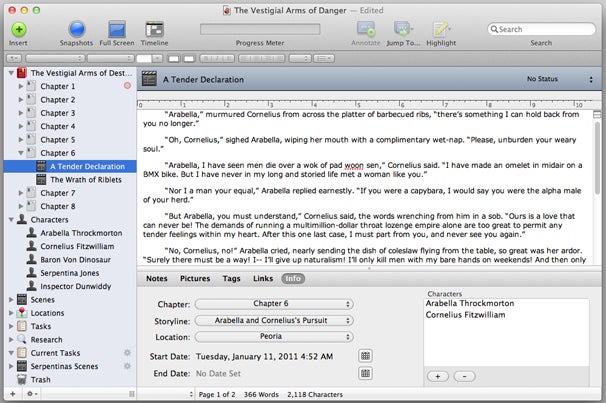 Metadata for each scene appears in a resizable pane below your text, new for version 4. Here, you can add notes, images, web links, and keyword tags. You can also interlink each scene with the program's separate lists of characters and locations, mark whether the scene belongs to a particular storyline, and create start and end dates for it in the Timeline view. If this extra information bothers you, just slide the metadata pane down to nothingness.
Several clever, useful features help StoryMill stand out from its rivals. I particularly liked its word frequency calculator, to help authors stay out of a linguistic rut, and its imprecise but still welcome cliché detector, which flags overused phrases. I also enjoyed StoryMill's built-in tutorial, which wittily parodies the Three Little Pigs to explain the program.
StoryMill offers plentiful highlighting and annotation tools, plus color-coding to help you distinguish your first draft from your final manuscript. With its handy snapshot feature, you can also save and compare multiple versions of the same document, and restore previous drafts if you end up liking them better.
StoryMill's full-screen editing mode also outclasses the competition by avoiding other programs' strict minimalism. In addition to your text and an otherwise blank background, it presents running word, character, and page counts at the bottom of the screen, along with text zoom controls. Still too distracted? You can easily banish this data.
The Timeline is an elegant and clever concept, but for me, its execution fell short of its aims. Using multitouch commands, you can scale your timeline from centuries down to hours, and stack your scenes according to which storyline they occupy. If a single event cuts through multiple storylines, you can mark it on the Timeline as well.
While you can drag unassigned scenes directly from a list to the Timeline, you can't click and drag scenes back and forth along the Timeline to change when they begin or end. Nor can you drag a scene from one storyline to another. Instead, you'll have to click on each scene to open an info window, then manually change the dates and the assigned storyline. I also found the multitouch pinch-to-zoom less than accurate; I had trouble sliding smoothly through different scales of time, often overshooting the desired scenes to end up on a blank stretch of timeline.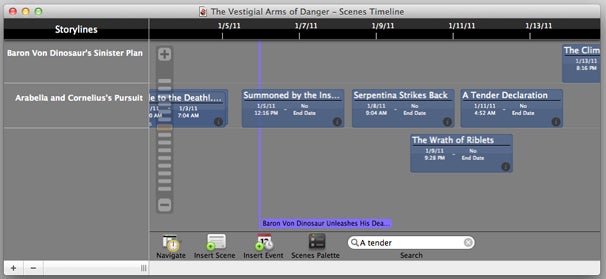 StoryMill's cheerful, thorough help files say that you can drag-and-drop entire storylines to reorder them in the Timeline. When I tried it, the storylines did switch places—but the scenes within them initially stayed put. Closing the Timeline and reopening it showed the scenes in their proper new order, and Mariner says the program's next update will fix this glitch. On one occasion, the timeline also froze completely after I dragged a new scene into it, although I couldn't reproduce this error.
Elsewhere in the program, attempting to save a file after taking a snapshot got me an error message that said the file had been modified by another program. A "Save Anyway" option saved my changes without a problem, and Mariner says the program's next update will also address this bug.
When you're ready to export your masterpiece, StoryMill can translate your text to Word, PDF, RTF, or other common file types. You can even build your own templates to decide which elements you export, and in what order. It's easier to learn than rival Scrivener's ( ) turbocharged export engine, but also lacks that program's ability to export directly to Kindle files and other e-book formats.
Macworld's buying advice
If you just want to write by the seat of your pants, StoryMill may be too structured for you. If you crave every feature under the sun, you may find Scrivener a better-equipped program for a slightly lower price. But if you need a well-organized approach to keep your writing under control, StoryMill will do the job nicely.
[Nathan Alderman is a writer, editor, and undeterred literary-agent rejectee in Alexandria, Va.]