At a Glance
Expert's Rating
Pros
Useful extras
Attractive design
Good speed
Cons
Some features unavailable based on connection
Our Verdict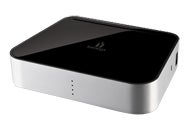 External hard drives typically do one thing only: store your data. The Iomega Mac Companion does a lot more than that. It transfers your files at great speeds, acts as a USB hub, and charges your devices, all in a beautiful looking package.
The first thing you'll notice about the Companion is its striking trapezoidal design. It has smooth aluminum sides with rounded corners and the top is made of reflective black plastic with the company logo in the middle. The drive fits right on the aluminum stand of an iMac, Apple LED Cinema Display, or Apple Thunderbolt Display, and looks awesome next to a MacBook Pro.
On the front of the drive is an activity light/capacity gauge. You'll need to download and install an application from Iomega's website to enable the capacity gauge feature. On the right side is a Kensington security slot and a single 2.1 amp, USB 2.0 port for connecting and charging an iPhone, iPod or iPad. On the back are two FireWire 800 ports, three USB 2.0 ports (one for connecting to a Mac, two for connecting other devices to the Companion) and power input. Included with the drive is a Quick Start Guide, power adapter, and USB 2.0, Firewire 800, and Firewire 800 to FireWire 400 cables. You can also download Iomega's encryption software if you want to add security to your drive.
The drive's iOS device charging capability worked as advertised, but results vary depending on how your drive is connected. When the drive is connected through USB, FireWire, or left unattached, any iPhone or iPod you attach to the right side USB port will recharge. An iPad will recharge too, as long as your Companion drive is either disconnected from your Mac or attached via FireWire 800. When your Companion is linked to your Mac via USB, an iPad must be in sleep mode in order to charge.
When connected to your Mac over USB, the Companion performs as a USB hub. We connected several types of USB devices, from other external hard drives, to flash drives, keyboards, mice, even printers, and they all worked. You also get syncing capabilities when you connect an iOS device to a USB port. Note that syncing and USB hub features will not work when the Companion is connected to your Mac over FireWire.
Files transfer speeds were pretty impressive overall. Through USB 2.0, the drive wrote a 2GB folder at 30.6MBps and a 2GB file at 32.6MBps, both scores coming very close to matching the fastest speeds we've seen this year. In the AJA system test, it recorded a write speed of 32.1MBps, just 0.1MBps shy of matching the top speed posted by the G-Tech G-Raid 4TB ( ).
The Companion excelled when connected using FireWire 800. It obtained the fastest read speeds of any drive we tested this year, posting a speed of 79.6MBps when copying a 2GB folder back to our test bed, and 87.0MBps when transferring back a 2GB file. The Companion's write speeds, while not breaking any records, came really close to matching them.
The only two areas where the device stumbled were in price and convenience. We found other drives with comparable storage size and connection ports for around a hundred dollars less, so you'll end up paying a premium for those charging and hub features. There's also a give and take on those features, depending on how you connect. Through USB, you get the extra USB ports and iOS device syncing; through FireWire, you get faster transfer speeds and zippier recharge times. Depending on your needs, you'll have to pick between one feature or another.
Macworld's buying advice
Despite its price, the Iomega Mac Companion is great to look at and functions perfectly well. If you need a storage buddy to go along with your Mac, consider this drive.