Changers has unveiled a device that harnesses the sun's power to help charge mobile devices like the iPhone and iPad. But the Berlin-based start-up is also hoping to harness the power of a social network to make people more aware of their energy consumption.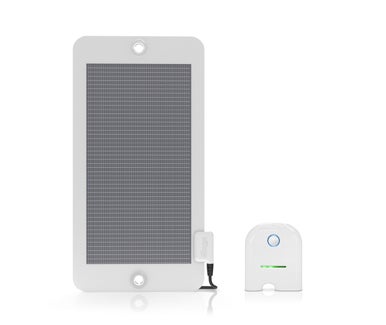 Announced this week at the Web 2.0 conference, the Changers Starter Kit consists of a lightweight solar panel and a battery that captures all the juice the sun's rays produce. It takes the device about four hours to charge in ideal conditions, at which time the Changers kit contains enough energy to power two complete iPhone charge cycles, according to Changers head of communications Hans Raffauf. The battery features both a USB port and a micro-USB connector, allowing it to power up any number of devices. In addition to Apple's iOS devices, Changers says it can also handle most Android phones, other handhelds from Sony Ericsson and Nokia, gaming devices from Sony and Nintendo, the Amazon Kindle, and other electronic offerings.
But the Changers Starter Kit battery also contains a chip that logs the amount of energy you're capturing. You can upload that to the Changers.com website, which not only logs the amount of energy generated but also converts that into how much carbon-dioxide offset by your solar use. The idea, Raffauf tells Macworld, is that by illustrating the impact of using renewable energy to power electronics, "we can change our behavior."
If altruism isn't motivation enough, Changers offers other incentives. First, there's the spirit of healthy competition—you'll be able to compare your energy savings to others, including friends, to provide an incentive to capture as much sunlight as possible. The Changers website will include Facebook and Twitter integration for broadcasting your renewable energy efforts. Raffauf says users will be able to unlock badges and achievements for participating as well.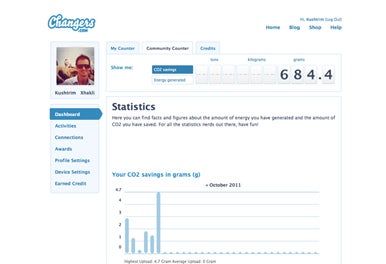 There are more tangible rewards, too—the energy you save gets converted into credits, which you'll be able to redeem with Changer's partners. Right now, that's eco-minded retailer Holstee, but Raffauf says the company is angling to line up more partners.
Much of Changers' prospects at promoting renewable energy hinge on getting people to sign on to its social network. Raffauf says the company aims to have a community of 100,000 people by the middle of 2012.
There's a number of interesting details about the Chargers Starter Kit that I noticed in my brief hands-on with the device. The solar panel is durable enough to withstand the elements. (The battery itself is another matter—it should probably stay indoors.) Green LEDs on the battery give feedback on how well the panel is positioned—the faster the lights blink, the more sunlight you're capturing.
The Changers Starter Kit ships in mid-November, but Changers began taking orders Thursday. The product sells for $149, with Changers saying it supports "thousands" of devices.