As someone who takes his camera virtually everywhere, I often come across new shooting situations, and look for fresh sources of inspiration. Photo Academy, an iPhone and iPod touch app from Aspyre Solutions, offers help when you need it, along with new ideas to liven up numerous typical shooting situations.
The app's General tips give a quick overview of photography principles; the interface features four small blocks across the top with immediate suggestions for optimal camera settings, aperture, lenses, and ISO settings. There are also more detailed sections for camera settings, equipment, lighting, and creativity.
The Creativity section is especially useful because it offers ideas on how to how to get a different angle on a typical scene, making what might have been a boring shot into something special. Photographers love to make the mundane look magical, right?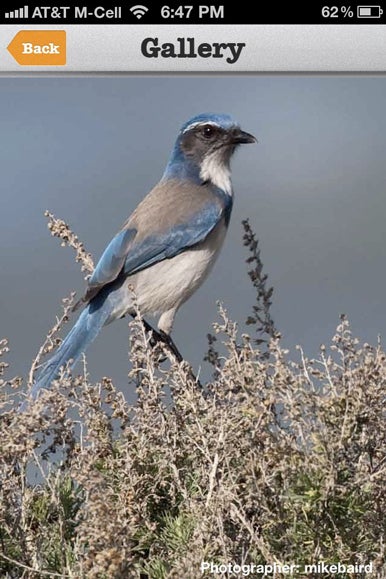 There is also a Gallery, which gives examples from the experts that look fantastic on the iPhone's Retina display. Within each tip you can tap the star icon to save it as a Favorite, and easily find it later. I view these favorites every time I go shooting to remind me of techniques I always want to try, but often forget.
I also love the section called Photo 101, which is basically a beginner class in photography that is well written, easy to understand, and comprehensive in its detail. Everything from the most basic tips and rules of composition, to file formats and photo workflow are covered—useful reading for every level of photographer.
Finally, there is a Diary section, where you can take or choose a photo from your iPhone and save some notes about an image. For instance, you can click a weather icon, get a GPS map, and make comments. Comments are especially easy with an iPhone 4S, as you can speak them into the comments area by hitting the mic button—very slick. You can also share your diary entries via email, Facebook, or Twitter, adding a social element to the app, although for something this photo-centric, I would have liked to see Flickr integration.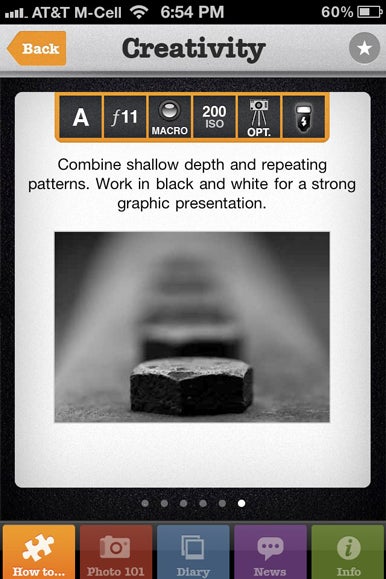 Photo Academy covers a multitude of topics, although some of them are placed in categories you might not expect. If you have trouble finding a subject, I suggest looking in the Travel section, as that seems to be where many orphaned topics and categories are hiding.
The subjects are very detailed and inspired me to get out my camera and experiment. For example, the Creativity section under Cats and Dogs suggested getting down to eye level with pets, so I crouched low and got some shots of my mom's cocker spaniels. Yes, there was some drool, fur, and attempts to lick my shiny new 50mm lens, but the shots turned out great.
Photo Academy provides a wealth of photographic information, instructions, and inspiration in your pocket. And anything that prompts me to get out there and shoot despite risk of dog drool on my lens gets a fixed spot on my iPhone. Download it and start shooting.
[Jeff Phillips is an educator, photographer and technology advocate. Find him on his blog or podcast.]
Note: When you purchase something after clicking links in our articles, we may earn a small commission. Read our affiliate link policy for more details.