Rival weather apps from The Weather Channel and AccuWeather have been revamped with iOS 5 compatibility and updated graphics that give your local weather the look of a top-flight video game.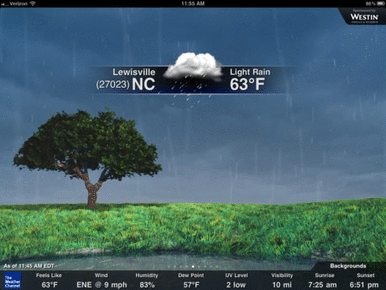 Version 3.0 of The Weather Channel for iPad launched on Thursday, with new animated backgrounds depicting your local weather conditions, a feature reminiscent of the MLB.com At Bat 11 effort—but one that is only available for users of the iPad 2.
Users of original iPads will have access to the app's other features, though, including a spinning globe that offers quick glances of weather around the world, as well as customizable weather maps. The emphasis on graphics may be why the app gobbles up a hefty 89.4 MB of storage space—not as much as an HD video game for iPad, perhaps, but more than 10 times the amount used by AccuWeather's tablet apps. That made for a lengthy wait when I downloaded the app this morning.
The updated Weather Channel app also puts a new emphasis on interaction with its audience, letting members of its iWitness Weather network upload photos of their local conditions—photos which are then overlaid on weather maps found elsewhere in the app.
The update comes a few days after The Weather Channel's iPhone app was also revamped for iOS 5 compatibility. Updates in that app were focused mostly on performance issues, with the developers saying that they worked to improve the speed and stability of maps and radar screens.
Meanwhile, AccuWeather last week relaunched its two tablet apps— AccuWeather Free and AccuWeather Platinum—with iOS 5 compatibility, and also with lusher graphics than in previous versions. The apps integrate with iCloud, allowing settings within the app to be saved across devices. They also feature support for both Notification Center and the tight Twitter integration found in iOS 5. The difference between the two AccuWeather apps? The $1 Platinum version is ad-free.
The Weather Channel for iPad is free, and compatible with tablets running iOS 4.2 or later. The iPhone app is also free, and compatible with devices running iOS 4.0 or later. AccuWeather's apps work only with iOS 5; the company says it will retrofit the apps for compatibility with versions of iOS 4 in future updates.