Since Trivia by Sporcle arrived on the App Store last year, Sporcle has rolled out updates in a laudable effort to improve the mobile trivia game. Unfortunately, Sporcle's approach to trivia—so enjoyable on the Web—just doesn't translate well to the iOS platform.
The mobile version of Sporcle recreates many of the games you'll find on the online quiz site. Quizzes span 15 categories, asking you to name everything from the capitals of Asia to the winners at Wimbledon. You type in your answers as you try and beat the clock, and therein lies the problem with Trivia by Sporcle that I first ran into when reviewing the app last May: What is a fun way to pass the time on the Web using a physical keyboard can be a tedious test of endurance on your iPhone's on-screen keyboard.
Sporcle has introduced a few changes since my initial review, aimed at making its trivia games more iOS-friendly. The app seems to make better use of the autocomplete feature in iOS, so you don't have to painstakingly type in words like "Kazakhstan." Just start typing the word and when the autocomplete bubble appears, tap the space bar—your answer will fill into the appropriate blank. It's a welcome time-saver, though it doesn't entirely address the limitations of quizzes where the answers can number in the dozens.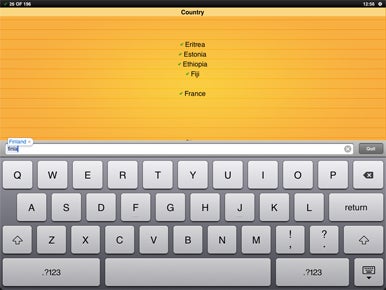 Also new since my initial review of Trivia by Sporcle is universal compatibility for the app—it's now optimized for the iPad as well as for the iPhone and iPod touch. Unfortunately, the iPad implementation is a disappointment—it's a blown-up version of the iPhone implementation. I can understand the desire to create a spartan app unencumbered by bells-and-whistles, but on the iPad's large screen, line after line of answers (or blank spaces where answers should be) is visually unappealing. Plenty of app makers have made use of floating panes on the iPad, and that's an approach that might have improved matters here.
The Sporcle website does a terrific job of testing the limits of your memory with its challenging quizes. It's a tall order to deliver that same level of fun to the iPhone and iPad given the limitations of the touch interface. And despite some obvious effort on the part of its developer, it's a task that Trivia by Sporcle just can't pull off.
[Philip Michaels is the editor of Macworld.com.]