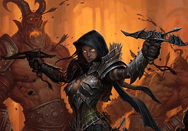 The first announcement made at this year's BlizzCon conference this week is that Blizzard's upcoming Diablo III role-playing game will be free, if you sign up for the World of Warcraft Annual Pass.
The Annual Pass locks you in for a 12-month renewable membership, so you month-to-month gamers had better shed those commitment issues. It's a smart move by Blizzard and an easy sell for people who already spend a lot of time with Blizzard's games. If you've had an inactive account or simply haven't tried the world's most popular MMO yet, Diablo III provides an incentive for you to get back in the game.
In addition to getting full access Diablo III to download and play for free the same day it's released, Blizzard is throwing in a few goodies for anyone who signs up for the annual pass. For one, you'll get the in-game World of Warcraft mount, Tyrael's Charger. You will also gain access to the beta of the next World of Warcraft expansion as soon as it goes live. For more information, check out the official Annual Pass Promotion Page.
Diablo III Collector's Edition
Blizzard CEO Mike Morhaime also revealed the Diablo III Collector's Edition during the BlizzCon '11 opening ceremony. Here's the full list of goodies you'll be getting in the box.
Diablo III CE extra content
Diablo III PC/Mac Game
Collector's Edition Soundtrack
Two-Disc "Behind the Scenes" DVD/Blu-ray Combo
Diablo Skull and 4GB USB Soulstone
"The Art of Diablo III" Book
Diablo Skull Statuette
Extra in-game content
Diablo III Aesthetic Artifacts
World of Warcraft Fetish Shaman Pet
StarCraft II Battle.net Portraits
Definitely great news for Diablo fans, even though there's no hint of a release date yet.
[Source: Twitter, WoW Insider]