Back around 1979, I was an early adopter. Before the first Sony Walkman was available for sale in the United States, I had bought a Sony Pressman, a brick-sized and -weight device that could both play and record cassette tapes. I was initially interested in this device to record music that I played with friends; it had a built-in stereo microphone, as it was designed for recording interviews. But I quickly realized, as I carried it to and from my friends' homes, that I could also listen to music on it.
In those days, the bands I listened to were The Cure, Joy Division, Theater of Hate, The Durutti Column, Talking Heads, and other postpunk bands. I would walk through the streets of suburban Queens, New York, the Pressman wedged in the back pocket of my blue jeans—or, in winter, in a coat pocket—with a pair of headphones on my ears. Back then, you didn't really see people wearing headphones. The Walkman wasn't introduced until June 1980, and even then, it didn't catch on very quickly. You would occasionally see people in the streets of Manhattan with headphones on, but it took a few years before it became common.
When I think back to those days, when I think back even 10 years ago, I realize how far we've come since the introduction of the first iPod. While the Sony Walkman slimmed down a great deal after the earliest versions, its size was still constrained by the size of the cassette tapes that it played. The original iPod, introduced exactly a decade ago, was roughly the size of one of those tapes. Yet unlike many other MP3 players at the time, which used flash memory, and held only a handful of songs, the original iPod had 5GB of storage. Apple touted the original iPod as holding "up to 1000 CD-quality songs on its super-thin 5GB hard drive." Apple also emphasized how quick FireWire syncing was: it let you download an entire CD into iPod in less than 10 seconds, and 1000 songs in less than 10 minutes—30 times faster than USB-based players.
In Apple's press release from October 23, 2001, former CEO Steve Jobs said, "With iPod, Apple has invented a whole new category of digital music player that lets you put your entire music collection in your pocket and listen to it wherever you go. With iPod, listening to music will never be the same again."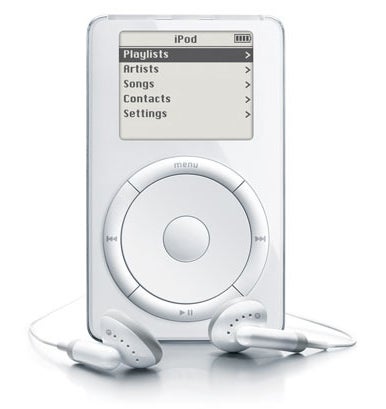 The real advantage of the iPod was its integration with iTunes. Unlike other MP3 players, which required users to drag music files into folders, iTunes allowed you to sync your music automatically to an iPod. Apple's integration of hardware and software made the user experience much easier than what other devices of the time offered.
And now, think about what we have: the iPod classic with 160GB of storage, or 32 times that of the original iPod. The iPod touch, with up to 64 B storage; even though this uses flash memory, it's much faster than flash memory that was used 10 years ago. And, of course, the iPod has morphed into the iPhone and iPad, both devices that can play not only music, as the original iPod did, but also all the other types of media that we use in digital form today—not to mention the many apps that we use to work and play on these devices.
The iPod changed the world of music, in several ways. While the Sony Walkman democratized music listening in the streets, or during your commute, you still needed to carry around cassette tapes. These took up space, and were especially susceptible to dust and lint from your pockets. With the iPod, you can carry your entire music collection in your pocket (unless your music collection is as big as mine, that is). No longer do you have to decide before you go out of the house or on a trip what music you might want to listen to and remember to bring those tapes. And, with the ability to now download music from the cloud, you may never even have to worry about what you have synced to your iPod; you may be able to download the music you want when you want to listen to it. The importance of the iPod is therefore not only the device, but the entire ecosystem that it depends on. From iTunes on your computer to iCloud, the iPod is one link in a chain that brings music to your ears.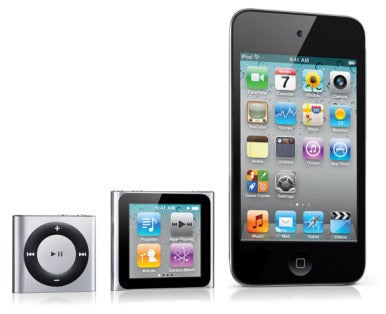 And the iPod changed the world of music in another way: it brought the idea of "shuffle" to listeners. With the iPod, and iTunes, you can listen to music at random. Instead of making choices, you can let fate choose what you listen to. In some ways, this approach to listening to songs devoid of their context in albums—not that different from radio, just without the DJ's grating voice and the loud commercials—has helped speed the erosion of music sales. No longer approaching music as albums, listeners have taken to buying individual songs, from the iTunes Store, Amazon.com, and other places.
I used to listen to CDs; actually listen to them on a CD player. I buy a lot of CDs, and I review classical CDs, so I get a lot of plastic discs. Five years ago, when hard drives and iPods held less than they do now, I didn't rip every CD I received; I would choose the ones that I would want to listen to on a portable device, and listen to others on the CD player. Now, I rip every CD I get, put all my music in my iTunes library, and choose what to sync. Naturally, my iTunes library is for more than just syncing to my iPods: my Mac is connected to my stereo so I can listen to music as I work and when I'm relaxing; I stream my music to an Apple TV connected to a stereo in my living room; and my music library is the interface between me and my music collection.
The iPod is partly responsible for this new approach to managing music my collection. Back in the day, when all I had was vinyl, my collection was somewhat like that of the character in the book/movie High Fidelity. I, too, would go through periods when I would try to figure out new ways of organizing all of those LPs. But now, everything is in my iTunes library, and all that matters for organizing my music collection is how I tag my files and create playlists. If not for the success of the iPod, iTunes would probably not be my "digital hub." Now, 10 years after the introduction of the iPod, this device has become commonplace. While Apple has the lion's share of the MP3 player market, iPod sales are slowing down as there are fewer new users, and many existing users switch to the iPhone.
It's clear that the iPod has reached a plateau, with little room to add new features, but perhaps this is the sign of a device becoming mature. In 10 years, the iPod has certainly changed the world of music and the way we experience music. Who would've thought, 30 years ago, that I could take a trip with hundreds of live Grateful Dead concerts, every single Bob Dylan album, all of Franz Schubert's lieder, all of Haydn's 104 symphonies, all off Beethoven's string quartets and piano concertos, every Bill Evans album ever released, audio versions of all of Shakespeare's plays, and music by hundreds of other composers, artists, and performers—all on a single device. We take this for granted. We can have all the music we want, all the time, or any time. In some ways, it's almost too easy to listen to music. But having our entire music collections at our fingertips has made music, for many people, an integral part of their lives.
[Senior contributor Kirk McElhearn writes about more than just Macs on his blog Kirkville. Twitter: @mcelhearn Kirk is the author of Take Control of iTunes 10: The FAQ.]