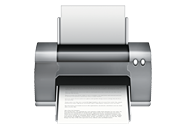 Looking to print a few flyers for your garage sale this weekend, or maybe print a few things for your upcoming Halloween party? If you use a Canon or FujiXerox printer, you probably should use one of the new drivers released by Apple on Thursday.
Canon Printer Drivers v2.7 for OS X installs the latest software for Canon printers and scanners. The 324.08MB download requires Mac OS X 10.6.1 or later. Apple provides a list of supported devices.
FujiXerox Printer Drivers v2.2.1 for OS X is a 50.06MB download that requires Mac OS X 10.6 or later. The release notes has a list of supported devices.
The driver downloads are available through OS X's Software Update. They are also available from Apple's Support site.
Note: When you purchase something after clicking links in our articles, we may earn a small commission. Read our affiliate link policy for more details.