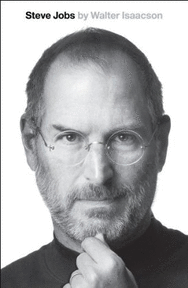 Steve Jobs was a brilliant-but-belligerent eccentric who transformed seven different industries, his biographer said in an interview that aired Sunday night on 60 Minutes.
"He's not warm and fuzzy, you know?" said Walter Isaacson, whose book, Steve Jobs, went on sale Monday. "He was very petulant, he was very brittle, he could be very, very mean to people at times, whether it was to a waitress in a restaurant or to a guy who had stayed up all night coding."
For the book, Isaacson interviewed Jobs—the late CEO and co-founder of Apple—more than 40 times before Jobs' death earlier this month at the age of 56. Sunday's television interview, along with the book, covered everything from Jobs' business acumen to personal anecdotes about Jobs' use of drugs and disdain for bathing as a young adult, as well his relationship with his biological parents. (See the video below to watch the first segment.)
Isaacson credited Jobs with transforming personal computing, animated movies, digital publishing, retail stores, music, telephones, and tablet computing. And Jobs' sometimes-abrasive personality gets some of the credit for those transformations, with 60 Minutes Steve Kroft correspondent saying that Apple's success was something "only a complete control freak could've pulled off."
"When he was creating the original Macintosh, Steve Jobs would come in and say, 'We have to have this done by next month.' People would say, 'No no, you can't actually write this much code by next month.' He would say, 'Yes, you can do it.'" Isaacson said. "In the end, he would not take 'No' for an answer. He would make the dent in the universe he wanted."
Jobs acknowledged his prickliness, in two hours of interview tapes Isaacson made available to 60 Minutes.
"I feel totally comfortable going, in front of everybody else, 'God, we really [expletive] up the engineering on this, didn't we?' That's the ante for being in the room," Jobs is heard telling Isaacson on one of the tapes. "We're brutally honest with each other, and all of them tell me they think I'm full of [expletive]. And I can tell anyone I think they're full of [expletive]. We had some rip-roaring arguments where we're yelling at each other."
Other revelations from the 60 Minutes segment and its online extras:
• Despite his success, Jobs retained a counterculture distrust of wealth—or, at least, ostentatious displays of it—that was reflected in his dealings with fellow tech industry giant Bill Gates, and even other Apple employees who got rich.
Jobs noted that Gates had become one of the richest men in the world. "That was never really my goal. And in the end, I'm not sure that was his goal either."
And he spoke of watching his Apple colleagues amass money, buy cars, and get plastic surgeries. Jobs instead opted for a simpler life, with a Palo Alto home he regarded as "normal" and ungated.
"I made a promise to myself," Jobs told Isaacson. "I'm not going to let this money ruin my life."
Isaacson added, "Jobs has within him sort of this conflict—but he doesn't see it as a conflict—between being hippie-ish and anti-materialistic, and wanting to sell things like [Apple co-founder Steve] Wozniak's board, wanting to create a business. I think that's exactly what Silicon Valley was all about in those days."
• Jobs, perhaps unsurprisingly, was contemptuous of both Microsoft and Google. He felt both companies had ripped off his company's ideas—but not very well.
"Microsoft never had the humanities and the liberal arts in its DNA," he told Isaacson. "It's a pure technology company. And they just didn't get it. When they saw the Mac, they didn't get it. How dumb do you have to be not to get it once you see it? Google's the same way. They just don't get it."
But he expressed admiration for another industry CEO also sometimes regarded as single-minded and abrasive: Mark Zuckerberg.
"You know we talk about social networks in the plural but I don't see anybody other than Facebook out there. It's just Facebook—they're dominating this," Jobs said—perhaps a surprise, given how integrated iOS 5 is with Twitter. "I admire Mark Zuckerberg. I only know him a little bit, but I admire him for not selling out. For wanting to make a company. I admire that a lot."
• Jobs and Gates had a famously complicated relationship. "People can sometimes love each other and hate each other at the same time," Isaacson said.
Gates told Isaacson that Apple's business model "only worked if you had a Steve Jobs." Jobs' response? That Microsoft's model also worked, "but only if you don't mind putting out crappy products."
Jobs, it appears, gets the last word.