In an App Store overrun by zombie-themed games, Crazy John looks to make its stand with old-school graphics and heavy gunplay. Both give the game from Triniti Interactive a distinctive look, but in the end, it's not enough to make Crazy John stand out from the crowd.
The game puts you in charge of Crazy John, a block-headed character in the vein of Triniti's other hit iOS game Call of Mini: Zombies. John comes by his nickname honestly: He's opted to stay on the apocalyptic surface world to do battle with the hordes of zombies who now roam the earth. In a series of missions, you control John as he tries to send the zombies back to their graves with the help of available weaponry and power-ups.
The game keeps things interesting by serving up different challenges. In one mission, you might have to slaughter a set number of zombies; in another you might have to reach a marked spot on a map and survive for set period of time. And then there are the stages where you have to battle some fairly grotesque—and hard-to-kill—bosses. The scope of the challenges only gets more difficult as you progress to a new level.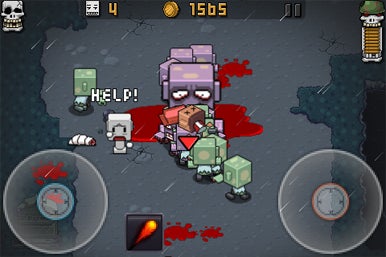 You have some basic weapons at your disposal, which you can augment between levels by spending some of the coins you earn from waxing zombies and rescuing survivors. You can also use that money to augment your body armor, increase your hit points, and boost your foot speed, among other attributes. If you're put off by the pace at which you earn cash—and it does seem slower in Crazy John compared to other games I've played—you can buy $450,000 worth of credit for a $1 in-app purchase.
Crazy John uses a two d-pad control system, a scheme that I've never been wild about. Yet, Crazy John implements it pretty well: The pads for controlling direction and shooting are far apart, and there's no chance of inadvertently changing weapons when you mean to be tapping the fire button instead. An auto-aim option in the settings also makes it easy to control your firepower. This is one of the few times I've been able to walk in one direction while shooting in another, so credit Triniti with finding a way to make this approach work, even for someone who's all thumbs.
But the system isn't flawless: The problem with Crazy John's controls is one of timing. The instant you complete one mission in the game, the next one begins, but often you're so busy mowing down zombies—there is a lot of killing in Crazy John—you wind up tapping your way past your marching orders. It feels a little bit sloppy, to be honest.
The sloppiness appears in other ways. Sometimes zombies lurch into view from the edge of the screen; other times they crawl out of ruptures in the earth. All that's fine—what's less understandable is when the zombies suddenly materialize out of thin air. It's also a bit disconcerting when power-ups and survivors waiting to be rescued are on the edge of the screen and, as a result, largely obscured from view.
These quirks don't make Crazy John a bad game, but they do prevent it from being as enjoyable as a zombie-blasting app could be. iPhone gamers who like their zombies gruesome, their gunplay violent, and their action nonstop (if a bit repetitive) will find enough to enjoy about Crazy John. But the game lacks that standout quality that keeps you coming back for more.
[Macworld.com editor Philip Michaels has played so many zombie games, he feels like he's already survived about three zombie apocalypses.]