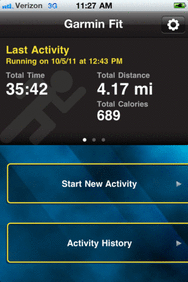 Garmin International on Tuesday unveiled two new products—an app, and a piece of hardware—to help amateur athletes better track their progress.
The new Garmin Fit app is similar to Nike+ GPS or RunKeeper Pro: Strap on your iPhone before a jog or a bike ride, and the app displays your speed, distance and route traveled, and estimated calories burned. When the workout is complete, the data can be shared with the Garmin Connect community—a service like DailyMile, only targeted to Garmin customers—to allow for comparisons and long-term tracking of your progress.
The app can also work in the background, allowing users to send and receive phone calls, texts, and mails from the trail if necessary.
iPhone owners who love to exercise may also be interested in Garmin's new Ant+ adapter for iPhone. The $50 device links your phone to other Garmin products—such as heart monitors and footpod centers—to track the pace and intensity of indoor workouts.
Garmin Fit, the app, costs $1. It is compatible with any device running iOS 4.0 or later—though taking your iPad for a jog might prove a bit cumbersome.