We've so quickly grown accustomed to the magic of iOS devices that we're surprised when a device comes along to remind us that iPhones and iPads used to be the stuff of science fiction. We've got a classic movie reference and more in this week's roundup of accessories.
Griffin Technology: Griffin and Crayola have previously teamed up on several products for the iOS universe. They're back with the $40 Crayola Trace & Draw, which protects your iPad 2 in a parent-friendly, shatter-proof clipboard frame, inviting your child to play and make art using the free Crayola Trace & Draw app, a sort of digital coloring book that includes connect-the-dot games along with drawing templates featuring robots, superheroes, and jungle animals.
Hatch & Co.: By now we've lost count of all the Bluetooth-enabled keyboard cases for the iPad 2. Hatch & Co. says its $90 Skinny improves on all the others by being, well, skinny—the company claims the device is the "world's slimmest iPad 2 keyboard case." Certainly it's light, at around 10.5 ounces, and it adds less than a quarter-inch to the thickness of your tablet. It also features Smart Cover traits, turning your iPad on and off when you open and close the case. The Skinny is available for purchase at Amazon.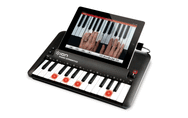 Ion Audio: If you want to learn how to play the piano, you can spend years pounding away on that old upright, or you can buy Ion Audio's new $100 Piano Apprentice. Just slide your iPhone or iPad into the dock of the 25-key keyboard, then follow the instructions from Ion's free Piano Apprentice app. The keys will light up to help lead your fingers on their new musical journey..
Ipevo: This accessory maker has two new products on the market. The $80 Typi Folio Case is the latest entry into the ever-expanding market of iPad 2 cases that include a Bluetooth wireless keyboard—with the twist that this keyboard is also detachable from the device, allowing users to create the most comfortable setup for their productivity. The Typi comes in either black or tan. Ipevo's Chopstakes is, essentially, a pair of styluses intended for tandem use on your tablet. The company says the product can be used for typing, drawing, drumming, gaming and more. The 6.9-inch version is $35; the 9.3-inch version is $45.
Think Geek: Once Siri was unveiled to the masses—unleashing a tide of 2001: A Space Odyssey jokes—ThinkGeek's $60 IRIS 9000 voice control module became an inevitable product. The device includes a glowing red light reminiscent of a certain cinematic supercomputer, but it actually also has a function: Slip your iPhone 4S into IRIS's cradle, then carry the remote with you throughout the house. You can speak commands or make requests of Siri from up to 50 feet away—the built-in mic can pick up your voice, and a speaker amplifies Siri's response.
Wahoo: This seems to be the week for turning your iPhone into an exercise tool. Hot on the heels of Garmin's announcement of its Garmin Fit app and related hardware, Wahoo has unveiled its Run/Gym Pack, a $120 device that uses your phone as the hub of a system for tracking and measuring your progress during workouts. The pack includes a wireless heart monitor, as well as an antenna to plug into the phone's dock-connector port for receiving your heart-rate data. That data can be used in conjunction with more than 50 exercise-tracking apps for your iPhone. The device can be purchased from the Best Buy website.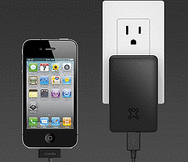 XtremeMac: Two new products have arrived from accessory maker XtremeMac. The $30 InCharge Home USB for iPod, iPhone and iPad is a 10-watt wall charger with collapsible prongs; the $30 InCharge Sync for iPod, iPhone, and iPad is a dock that will display your iOS device while charging it or syncing its data to your home computer. Both are portable for easy packing and travel use.