At a Glance
Expert's Rating
Our Verdict
Whether you're working on a slow exposure photography project or are simply the type who loves taking super-sharp photos, the GorillaPod line from Joby has you covered. Ideal for self-portraits, light painting, and all the other situations where you'd want a steady shot, these tripods are designed to be small, convenient, and durable. We looked at how well the newly released GorillaPod Hybrid, Micro 250, and Micro 800 fit and functioned on cameras of different sizes and weights. Check out the photos of how they fit on some cameras below.
The GorillaPod Micro 250 and Micro 800
With these little guys, you'll never have to leave home without a tripod again. Both easily screw onto your camera's standard tripod attachment and are compact enough to stay on at all times. Despite their small size, the GorillaPod Micro tripods are exceptionally sturdy and hold your camera steady on both flat and slightly bumpy surfaces.
The $20 Micro 250 weighs less than an ounce but can hold cameras that weigh up to 8.8 ounces (250 grams)—that's 1.2 ounces more than the 7.6 ounce Fugifilm FinePix f550EXR, for example. The larger $30 Micro 800 can hold up to 28.2 ounces (800 grams)—more than suitable for a standard interchangeable lens camera, but not quite enough for a medium-sized DSLR. The Micro 800 is perfect for a Sony Alpha NEX-5 with its standard 18-55mm lens (together, they weigh about 16.5 ounces) or even a Nikon D5000 with its standard 18-55mm lens (the units together weigh 27 ounces), but it would be way too small for a Nikon D300 (its body alone weighs in at 30 ounces).
We tested out the Micro 250 on a Fugifilm f550 EXR. When the legs are closed, they lay flat against the bottom of the camera. On the Fugifilm f550 EXR, they stuck out slightly from one side—a little inconvenient, but not too noticable. When you are ready to get your steady shot, you just flip out the legs into tripod mode and adjust your camera on the 36-degree ball head. The legs are made of a coated alloy and have rubber tips, which grip well on every type of surface from a desktop to a sidewalk. Surprisingly, in our testing, the little rubber grips keep the camera from slipping on a plastic surface at angles that exceed the head's 36-degree maximum tilt.
If you always carry your compact camera with you, but want to travel light, then these Gorillapods are an excellent accessory. They're perfect for when you need to take a steady shot, whether it's night or action photos.
The GorillaPod Hybrid
Ideal for interchangeable lens cameras and small SLRs, the $40 GorillaPod Hybrid is a step between the tiny Magnetic GorillaPod for point-and-shoot cameras and the sturdier SLR-Zoom GorillaPod for medium-to-large-sized SLRs with heavier lenses. With a maximum holding weight of 34 ounces, the Hybrid can easily support a small SLR with a lightweight lens, like the Canon EOS Rebel T 3 that weighs in at 17.4 ounces with a standard 18-55mm lens.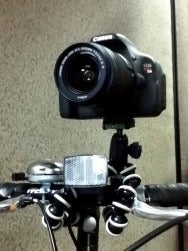 The Hybrid is extremely lightweight and yet surprisingly sturdy. The flexible legs are made of individual plastic joints that are covered in graspable rubber. They are easy to maneuver when you are setting up your shot, but stay wrapped when you need them to. I was able to attach the Hybrid firmly on the handlebars of my bike with the Rebel T3i and 18-55mm lens attached. The integrated aluminum ball head of the Hybrid has everything you would need from a basic tripod—90-degree tilt, 360-degree pan, and a level that can tell you exactly how much you are tilting your camera.
Unlike its Micro brothers, the GorillaPod Hybrid cannot reside comfortably on your camera at all times. For easier use, the small attachment that connects the Hybrid to your camera's tripod mount can be easily disconnected and stay on the bottom of your camera without adding much bulk. Even if you don't keep the device attached to your camera, the Hybrid will certainly become a permanent fixture in your camera bag—it's a light, yet strong and easily-adjustable tripod.
Macworld's buying advice
GorrillaPod's Micro 250 and 800 are great little accessories for casual and professional photographers alike. The always-on mini tripods are the perfect solution for on-the-go people who often find themselves needing a steady shot. They're also handy for anyone who wants to travel light without sacrificing the ability to capture a beautiful night photo or self portrait. The GorillaPod Hybrid is a better option for photographers who own a small SLR. Like other traditional GorillaPod offerings, the Hybrid is incredibly adjustable, and will help keep your photos steady, clear, and level in all kinds of situations and settings.
[Lauren Crabbe is a Macworld intern.]