Say goodbye to obsessively refreshing FedEx's tracking information: The next time you order a new iMac from Apple's online store, you may be able to walk down to your local Apple Store and have your computer ready and waiting.
The program, first reported by MacRumors, allows U.S. customers to elect in-store pickup for their purchases instead of home delivery. It appears that you can choose to pick up almost any computer, accessory, or custom configuration, though more complicated orders tend to come with a longer waiting time: An inquiry on a hypothetical $4,000 built-to-order MacBook Pro projected an in-store arrival date of November 5 (as opposed to between November 2 and November 4, were I to have it delivered to my apartment).
For other items—a Bowers & Wilkins speaker system, or a stock-configuration MacBook Air—you may be able to waltz over to your local store immediately. If there are multiple stores in your area that support in-store pickup, you can check the item's availability at each to avoid delays.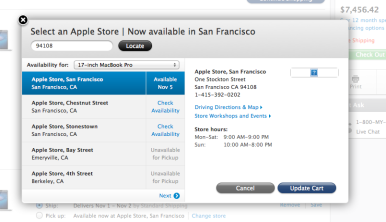 Unfortunately, unless your local store is in San Francisco, you won't get to take advantage of this program quite yet; Apple is using three stores in the Bay Area city as a testing ground, with other U.S. stores coming soon. In the meantime, you can explore the new system (and lust after your custom-configured Mac Pro) by popping an item into the Apple Online Store shopping cart.