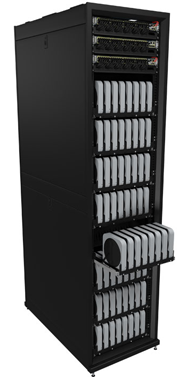 Colocation service Mac Mini Vault is offering server solutions created specifically for and with the quad-core i7 Mac mini server model.
Mac Mini Vault offers 48 customized NetShelter cabinets, capable of hosting up to 140 Mac minis. The Mac minis each sit in slots on especially designed shelves which slide out, allowing for easy access to the ports and power button. All the cabinets contain six Power Distribution Units, which allow remote power cycling for the connected Mac minis. The minis are connected to Cisco Gigabit Switches with redundant fiber connections.
Mac Mini Vault says that their colocation services offer users complete control of the Mac mini Servers remotely, and that the custom cabinets allow engineers to provide immediate on-site support as needed.
The company says customers can upgrade storage to up to 9TB, and that individual servers can get upgraded to as much as 16GB of RAM. And since the quad-core i7 Mac mini server sports Thunderbolt, future impressive upgrades are possible, too.
Mac Mini Vault offers its service for a monthly fee starting at $30. You can provide your own Mac mini(s), or let Mac Mini Vault buy one on your behalf at cost. While the cabinetry is primarily focused on the more recent, slimmer Mac mini models, hosting for classic minis remains available.
Note: When you purchase something after clicking links in our articles, we may earn a small commission. Read our affiliate link policy for more details.