Whenever I'm picking out cards for my friends and family, I always end up choosing a letterpress option—there's something special about that vintage, handcrafted look. Yet I never fully understood how these cards were printed until I tried out Bonadies Creative's LetterMpress, an app that turns your iPad into a virtual letterpress printer.
It might seem strange to bring a 15th-century invention to the iPad, but LetterMpress takes full advantage of the iOS interface, while offering an engaging and authentic experience. The app lets you create your own letterpress designs with all the traditional letterpress tools—from type case to furniture (wood spacers). Launching the app takes you to an empty press bed, where you can start composing your design. You can choose from Type & Art, Furniture, Lockup, Galley Tray, and Rule from the bottom navigation bar. Rule makes a ruler appear in the press bed, while tapping any of the first four options reveals a sliding tray of those objects at the top of the screen.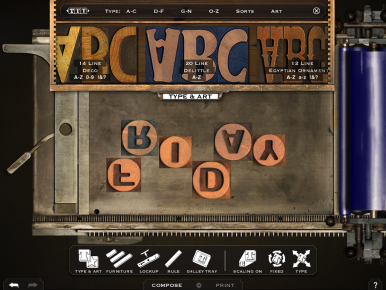 The Type & Art tray features 22 woodcut font options and numerous vintage-looking borders, blocks, and images. You can tap and drag your choices into the press bed and arrange them from there. Keep in mind that the app works best in landscape mode, with the Home button on the right side; this way you can arrange the letters from right to left (though the letters do appear upside down and backwards). The app mimics the way traditional letterpress prints are set, and like its real-world counterpart, it takes time and practice to master. If you're looking for a simple and easy-to-use design app, then LetterMpress might not be for you.
One of the best parts of LetterMpress is its integration with iOS gestures. It is also a feature that takes the most getting used to. For instance, triple-tapping a letter or image removes it from the press bed and double-tapping makes the object float, so that you can move it over other objects (otherwise, moving a lot of different pieces in the press bed is like figuring out a puzzle). You can change the size of an object with a two-finger pinch or reverse pinch gesture. This is the only gesture that does not consistently work, especially when objects are smaller than your two fingers; it's best to zoom in on the press bed and then pinch to resize.
Once you understand what each gesture accomplishes, working in LetterMpress is a truly enjoyable experience. I highly recommend at least skimming through the app's Quick Start guide, accessible by tapping the question mark at the bottom right corner of the screen, before getting started.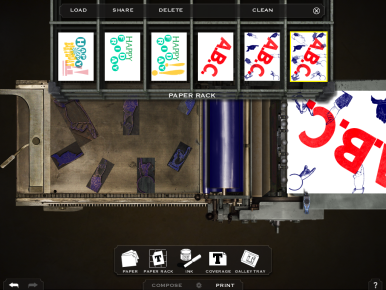 As soon as you're satisfied with your design, you can tap Print at the bottom of the app to take you to the printing press section of the app. From there you can customize the ink color, paper type, and text coverage—how much ink covers the type case. (You can choose between light and dark.) Swipe your finger on the printing press lever to move the paper over the inked design; this will produce a preview of your project, which you can then choose to keep—saving it to your Paper Tray—or reject. You can also create multicolor prints choosing a saved project from the Paper Tray, and then printing over it with a new design. Once you're satisfied, LetterMpress lets you save a finished design to your Photo Library; share it via email, Facebook, or Tumblr; or print it to an AirPrint-compatible printer. Unfortunately, there is no option to order a physical letterpress print from the app.
LetterMpress' intricate design successfully brings a real-life letterpress experience to the iPad, with sound effects and all. This is an excellent app for typography lovers or anyone interested in learning how a letterpress works, and creative types will love the amount of customization available in the app. LetterMpress gives you the tools to create your own beautiful cards, posters, and more that replicate the letterpress look. For examples of more advanced LetterMpress creations, check out the app's Flickr group.
[Alexandra Chang is a staff editor for Macworld.]