The Pixelmator Team has launched Pixelmator 2.0, an upgrade of its consumer image editor, which is widely viewed as an alternative to Adobe Photoshop for common imaging tasks such as creating, editing, and enhancing still images. It is available now from the Mac App Store at an introductory price of $30 (the regular price will be $59), and as a free upgrade for current users.
New in Pixelmator 2.0 are drawing and retouching tools, a Content-Aware Fill feature, a Healing Tool, a Smudge Tool, and other features. Designed specifically for Lion, Pixelmator 2.0 also supports OS X 10.7 features such as Full Screen, Versions, and Auto Save.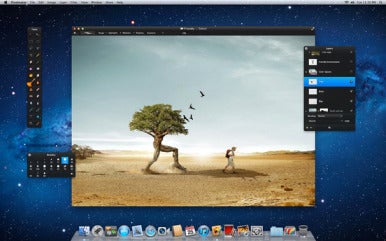 Pixelmator's new Content-Aware Fill technology, which is similar to Adobe Photoshop CS5's feature, allows users to excise unwanted elements from their photos—from errant objects to people who do not belong in a family shot. By choosing either the new Healing Tool or the selection tools, users can select things such as wrinkles, blemishes, image damage, or other details, and with a click, fill the selected area with similar nearby image content.
New drawing tools let users add, create, combine, and edit vector shapes, useful for creating buttons, icons, web page elements, illustrations, or image compositions. In addition to Pen and Freeform Pen tools, Pixelmator 2.0 includes pre-drawn shape tools for including triangles, lines, circles, or rectangles in compositions. A new Shape Settings palette lets you adjust fill and stroke settings for created shapes and shadows.
Pixelmator 2.0's new retouching tools include a Sponge Tool that lets you add or remove color from areas of an image by painting on them. Burn and Dodge tools let you naturally darken or lighten areas of an image, as you would in the darkroom. A Red Eye Tool fixes that common image flaw—either automatically or manually—while a new Smudge Tool lets you easily smear paint or rub out blemishes and other details in your compositions.
Other new features include an updated interface, a new Eyedropper Tool, a new info bar, a tool options bar, a fully customizable Tools palette, a new Type Tool, a Pixel Tool, and other enhancements.
More information and details on the program are available on the Pixelmator website.
When you purchase through links in our articles, we may earn a small commission. This doesn't affect our editorial independence.