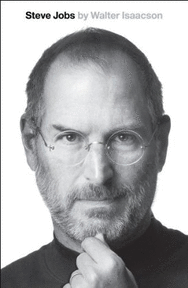 At Apple's companywide memorial event for Steve Jobs, new Apple CEO Tim Cook emphasized Jobs's direct involvement in six revolutionary products: the Mac, the iPod and iTunes, the iPhone, the iPad, Apple the company, and Pixar. Walter Isaacson's authorized biography Steve Jobs touches on all these topics; here are closer looks at Jobs's direct involvement with each, straight from Isaacson's book. We'll start with the company Jobs built.
Apple's homegrown inspiration
Jobs grew up in a subdivision where all the homes were designed by Joseph Eichler. Isaacson quotes Jobs as he discusses his appreciation of Eichler's ability to "bring great design and simple capability to something that doesn't cost much… It was the original vision for Apple. That's what we tried to do with the first Mac. That's what we did with the iPod." (The Pixar film The Incredibles includes an Eichler-style home.)
Isaacson also writes that Jobs took inspiration from the simplicity of the instructions on Atari's Star Trek video game, which included only two instructions:
Insert coin
Avoid Klingons
Once Jobs and Steve Wozniak were ready to form a company, they debated over various possible names for their new business; Isaacson writes that they rejected names like Matrix, Executek, and Personal Computers Inc. Jobs: "I was on one of my fruitarian diets [at the time]. Apple took the edge off the word 'computer.' Plus, it would get us ahead of Atari in the phone book."
Welcome to Macintosh
Jobs recalls the famed visit he took with various Apple employees to Xerox's PARC facility—the first place to experiment with graphical user interfaces still reminiscent of the ones we use today—as "a veil being lifted from my eyes." Jobs wanted customers to use the mouse, and not continue to rely on the keyboard interactions that characterized earlier home computers; he thus insisted upon the removal of the standard arrow cursor keys on the original Macintosh's keyboard. Writes Isaacson, "Jobs did not believe the customer was always right; if they wanted to resist using a mouse, they were wrong." That decision had the added advantage of forcing developers to customize their software for the Mac and its mouse, rather than merely porting over software that relied on cursor key input. (Jobs would cite similar logic years later in describing one of the reasons he refused to allow Flash on the iPhone; developers could then target solutions that work everywhere, instead of embracing iPhone-specific functionality.)
Isaacson writes later:
[Jobs's] frustration with Apple [after he was ousted from the company] was evident when he gave a talk to a Stanford Business School club at the home of a student, who asked him to sign a Macintosh keyboard. Jobs agreed to do so if he could remove the keys that had been added to the Mac after he left. He pulled out his car keys and pried off the four arrow cursor keys, which he'd once banned, as well as the top of of F1, F2, F3… function keys. "I'm changing the world one keyboard at a time," he deadpanned. Then he signed the mutilated keyboard.
The iPod and iTunes
Jobs was furious when he realized that the original iMac shipped with a tray-loading CD-ROM drive, and insisted that future models use less common slot-loading mechanisms instead. But slot-loading drive models tended to lag behind on cutting-edge technologies such as CD burning, and Jobs feared he'd made a costly mistake. Jobs told Isaacson he "felt like a dope" and "thought that we had missed it. We had to work hard to catch up."
Then came the iPod. Here's Isaacson quoting Jobs again:
In order to make the iPod really easy to use… we needed to limit what the device itself would do. Instead we put that functionality in iTunes on the computer. For example, we made it so you couldn't make playlists on the device. You made playlists on iTunes, and then you synced with the device. That was controversial. But what made the Rio and other devices so brain-dead was that they were complicated.
After the iPod's launch, Isaacson writes, Apple could have chosen to "indulge" music piracy, which at the time was fairly widespread in some circles, since most legitimate sources of online music were sorely lacking at best. But it didn't. Jobs told Isaacson, "From the earliest days at Apple, I realized that we thrived when we created intellectual property. If people copied or stole our software, we'd be out of business.. But there's a simpler reason: It's wrong to steal. It hurts other people. And it hurts your own character." And thus, the iTunes Music Store was born.
Since many individual artists had contractual rights empowering them to control whether tracks could be sold online or unbundled from their albums, Jobs took to making his case to some personally, including Bono, Mick Jagger, and Sheryl Crow. Jobs later invited Dr. Dre to Apple's headquarters to show him the seamless interaction between the iPod and the iTunes Music Store; said Dre, "Man, somebody finally got it right."
Internally, Apple predicted it would sell one million songs in the store's first six months online. It took six days.
Isaacson quotes an email ( made public as part of a Microsoft lawsuit) that then-CEO Bill Gates sent to various employees of his company the night Apple launched the iTunes Music Store:
Steve Jobs's ability to focus in on a few things that count, get people who get user interface right, and market things as revolutionary are amazing things… This is very strange to me. The music companies' own operations offer a service that is truly unfriendly to the user. Somehow they decide to give Apple the ability to do something pretty good… I am not saying this strangeness means we messed up—at least if we did, so did Real and Pressplay and MusicNet and basically everyone else… Now that Jobs has done it we need to move fast to get something where the user interface and Rights are as good… I think we need some plan to prove that, even though Jobs has us a bit flat footed again, we can move quick and both match and do stuff better.
(Spoiler: They couldn't.)
Jobs was initially opposed to offering a Windows-friendly version of the iPod, in part because the iPod was driving more Mac sales than Apple had expected. But other top executives at the company wanted to see Apple really be in the music player business, not just the Mac business. Jobs told Isaacson, "It was a really big argument for months… Me against everyone else."
Jobs demanded other executives prove that porting the iPod to Windows made good business sense. At a meeting where executives demonstrated that, indeed, it made incredible business sense, Jobs suddenly declared: "Screw it. I'm sick of listening to you a—holes. Go do whatever the hell you want."
The iPhone and the iPad
Isaacson reconfirms older stories explaining that the iPad project actually predated Apple's phone project. But once Jobs saw the multitouch interface in action, he concluded that it was far superior to the company's other approach: adapting an iPod Click Wheel as a phone interface.
Oddly enough, Microsoft—or at least one zealous Microsoft engineer—spurred Jobs to begin investigating the creation of a tablet device. Jobs tells Isaacson about a Microsoft employee he met at a dinner party who "badgered me about how Microsoft was going to completely change the world with this tablet PC software and eliminate all notebook computers, and Apple ought to license his Microsoft software. But he was doing the device all wrong. It had a stylus. As soon as you have a stylus, you're dead. This dinner was like the tenth time he talked to me about it, and I was so sick of it that I came home and, 'F—- this, let's show him what a tablet can really be.'"
The next day, Jobs said, he told his team: "I want to make a tablet, and it can't have a keyboard or a stylus."
Pixar
At Apple, Jobs credited an exclusive team of what he termed A players with the successful creation and launch of the original Macintosh. But Apple, at the time, had too many B and C players, Jobs thought. Jobs told Isaacson: "At Pixar, it was a whole company of A players. When I got back to Apple, that's what I decided to try to do. You need to have a collaborative hiring process. When we hire someone, even if they're going to be in marketing, I will have them talk to the design folks and the engineers."
Isaacson writes that "Pixar was a haven where Jobs could escape the intensity in Cupertino." More importantly, "[i]t was at Pixar that he learned to let other creative people flourish and take the lead. Largely it was because he loved [Pixar's chief creative officer] John Lasseter, a gentle artist who, like Ive, brought out the best in Jobs."
Apple itself
Jobs told Isaacson that Tim Cook—now Apple's CEO—came to the company "out of procurement, which is just the right background for what we needed. I realized that he and I saw things exactly the same way… Before long I trusted him to know exactly what to do." Because of that trust, Jobs said, "I could just forget about a lot of things unless he came and pinged me."
Said Cook, "Five minutes into my initial interview with Steve, I wanted to throw caution and logic to the wind and join Apple." Isaacson describes Cook as "Jobs's mirror image" in many ways, saying both were "unflappable." Jobs told Isaacson: "I'm a good negotiator, but he's probably better than me because he's a cool customer… but Tim's not a product person, per se."
In conclusion
Isaacson quotes Jobs at length near the book's conclusion. In summing up Apple and his own life, Jobs says this:
My passion has been to build an enduring company where people were motivated to make great products. Everything else was secondary… The reason Apple resonates with people is that there's a deep current of humanity in our innovation. I think great artists and great engineers are similar, in that they both have a desire to express themselves… We try to use the talents we do have to express our deep feelings, to show our appreciation of all the contributions that came before us, and to add something to that flow. That's what has driven me.