Looking for something to +1 this Halloween season? You may get your wish: Google on Thursday rolled out a slew of new features to Google+, including new breaking news collections, interaction graphs, photo styling, and support for Google Apps users.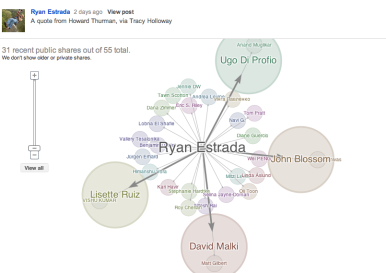 Those who wish to stay on top of the latest trend, news item, or viral video can take advantage of Google+'s new "What's Hot" section, which displays popular posts from users across the globe on whatever's trending at any given moment. If you're more interested in who's sharing a particular bit of juicy information, however, you can use the Ripples feature on a public post to see who's been sharing it, how many times it's been subsequently shared, and a time-based chart for how quickly the information spread.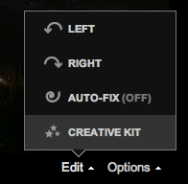 You can also tweak photos you've uploaded to Google+ using the Creative Kit, the company's new online image editor. Within Creative Kit, you can perform basic edits like cropping, rotating, sharpening, resizing, auto-correction, or changing the saturation and exposure. In addition, you can apply a variety of premade Instagram-esque effects—pick from styles like Daguerreotype, Reala 400, Polaroid Plus, Focal Black & White, Holga-ish, Airbrush, or Sunless Tan—or add text. And as a special Halloween perk, you can jazz up your images with pixel pumpkins, fake blood, fangs, googly eyes, and all sorts of other scary stickers.
If you don't see any of these new Google+ features just yet, don't panic—they seem to be gradually rolling them out to users throughout the day. (You can preview some, like Ripples, by following these steps.)
Users of Google Apps have reason to celebrate, too: You can now create a Google+ profile for your Google Apps business or education account. The company does note, however, that your system administrator will have access to your profile; as such, it may be best to keep your personal profile associated with your personal Google account, rather than with your Apps domain.