Plenty of apps let you watch your favorite TV programs on your iOS device—it's just a matter of making sure that the shows you like are available on a particular app. Nifty though the Hulu Plus app may be, for example, if you're looking to watch a show from CBS or The CW, you're out of luck.
That's where TV.com comes in. The CBS Interactive app streams a number of programs from CBS, The CW, and other Viacom-owned networks. And it doesn't cost you a dime to watch.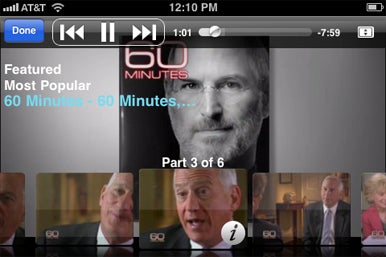 The app features current episodes of shows like CSI, Hawaii Five-O, and The Late Show With David Letterman, which you can watch from the comfort of your iPhone or iPod touch. (The app also works on the iPad, though not in optimized form.) The content is pretty current: In fact, as I type this, I have Sunday night's episode of 60 Minutes playing on my iPhone 3GS. The app features an impressive catalog of older programs as well—Twin Peaks, MacGyver, even the original Hawaii Five-O, to name a few. As extensive as TV.com's offerings are, there are some odd omissions. The inexplicably popular Big Bang Theory is included, but only in clip form and not full episodes. The inexplicably even more popular Two and a Half Men isn't featured at all.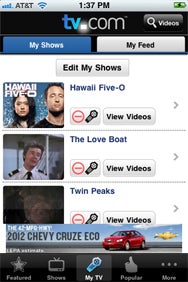 The size of TV.com's catalog is certainly impressive, but navigating the lengthy list of programming can be a bit of a bear. The app helps somewhat by breaking out a list of shows with full episodes from the complete list. (There's a bit of navigational wonkiness here, as you'll need to tap the name of the show in the All Shows view and not the View Videos button—tapping the latter can sometimes take you to a different show entirely.) I've found the best way to navigate through TV.com is to use the app's favorites feature to flag programs I like to watch; that way, those reruns of The Love Boat are available with just a tap of the My TV tab.
Videos look good streaming over Wi-Fi. You can also watch over 3G, though TV.com doesn't recommend it. (The quality of the stream suffers, and if you're not on an unlimited data plan, you can run up against your cap fairly quickly when streaming video.) Tapping the screen brings up chapters, making it easier to skip ahead in a particular episode.
I mentioned TV.com is a free app. The price of this freedom is advertising—you'll see a lot of it when using TV.com. An ad usually plays when you launch the app. You'll see another ad when you start to watch a program. And there are ads at the bottom of the list of TV.com's available shows. No one has to explain me the trade-offs for free content; just be aware that CBS Interactive is in business to make money, just like the rest of us.
TV.com certainly isn't a perfect app. There are the navigational issues I mentioned, and the app would better serve its users by making clear which episodes are more recent than others. (This is particularly important for serial dramas.) Still, the app promises programming from Viacom's family of broadcast and cable networks, and that's exactly what it delivers. It's hard to gripe about that, even with the occasional commercial thrown in for good measure.
[Macworld.com editor Philip Michaels is still holding out hope for the Love Boat-Twin Peaks cross-over episode.]