With November's National Novel Writing Month almost upon us, Mac-using writers have no shortage of noveling programs to choose from. Black Mana Studios' Manuscript distinguishes itself from the pack by helping writers craft novels with an easier path to publication. However, its refined-but-scant features come at a fairly steep cost.
Manuscript employs a three-step approach to writing: the pitch, the synopsis, and the chapters themselves. First, it encourages you to craft a one-sentence summary of your story. Then, Manuscript invites you to outline the skeleton of the plot in a synopsis. Finally, you can lay out and organize your chapters, with capsule descriptions of the events in each, before you actually start writing your text.
I found this approach impressively practical. It's broad enough not to feel creatively confining, and Manuscript lets you easily skip any and all of these steps if you just want to start writing. But following the program's structure helps you build your novel from a firm foundation, and catch potential plot holes before they turn into gaping pits of writer's block. In addition, having a pitch and synopsis ready can help considerably when submitting your finished novel to literary agents.
Manuscript unapologetically embraces a bare-bones approach to writing. You'll find no fancy formatting, progress trackers, or tools to add footnotes or annotations. You get a word counter and a slider bar to change the text size, but little else. The Preferences simply let you pick fonts and colors for text and backgrounds. You can create and customize folders of index cards beneath your chapters to track characters, locations, or other research, but you can't add images or Web links.
I found Manuscript's full-screen editing mode less useful than other programs' similar features. You can only set your page to fit the height or the width of your screen, which leaves text either enormous or unreadably tiny.
I appreciate Manuscript's ability to export to the ePub format employed by Apple's iBooks and other digital bookstores. Many fuller-featured rival programs lack this ability. Manuscript also boasts an excellent and thorough 10-minute video tutorial, and a surprisingly good FAQ that provides sound advice to help you find a literary agent and get your novel published. Some of its information, including links and pricing for obtaining an ISBN number for your novel, I'd never seen anywhere else.
Black Mana ported Manuscript to the Mac from iOS, and its roots on the iPhone and iPad show for good and ill. The program looks handsome and largely works well, though many of its interface elements feel built more for a touchscreen than the standard Mac interface.
The jump to the Mac OS may have left Manuscript with a few missing pages. Occasionally, changing the color of an index card would make that card's name disappear temporarily. I also initially encountered a bug that froze the program when the text reached a certain point on the page. Black Mana told me that this bug, related to auto-hidden scroll bars in Mac OS X Lion, had been found and would be fixed.
My biggest concern with Manuscript lies in its price. It costs $4 on iPhone and $7 on iPad, but nearly $40 on the Mac, for a program that's almost—if not entirely—identical. For $15 less, you can download the even simpler WriteRoom, while paying just $5 to $10 more gets you the vastly more powerful Scrivener ( ) or StoryMill ( ).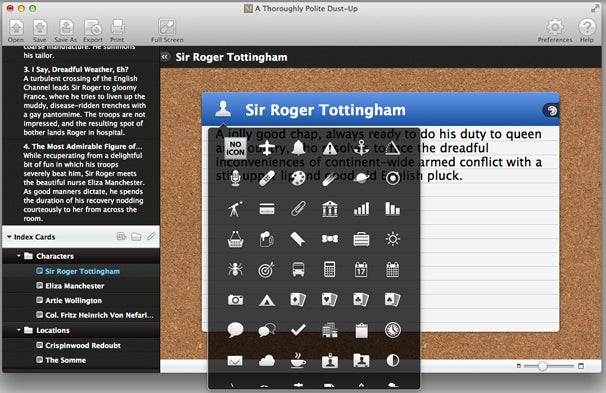 Macworld's buying advice
I liked Manuscript's practical, no-nonsense take on noveling. But its sleek appearance, and the clever touches scattered throughout the program, still don't seem like a good value in light of its premium price tag. Unless you don't mind paying a relatively large amount for a well-made but meager set of features, you'll get more bang for your buck elsewhere.
[Nathan Alderman is a writer, editor, and three-time NaNoWriMo attemptee in Alexandria, Va.]