A huge proportion of the thousands upon thousands of games in the iOS App Store are essentially variations on a theme, as countless developers try to make a few bucks by imitating the most-popular offerings. It's enough to make one a cynic, as game after game feels like a me-too offering.
You can count me among the cynics when it comes to "cave flying" games, a popular genre that's been around since well before the App Store debuted. In a cave flyer, you guide a plane, a rocket ship, a bird, or even a jetpack-equipped person, as the case may be, as it flies through a cave, tunnel, or other narrow thoroughfare. You usually control your ship/bird/person/whatever using a single finger: tap-hold to gain altitude, release your finger to dive. Along the way, you attempt to avoid obstacles, and perhaps pick up scattered booty, as your velocity gradually increases. The object is to fly as far as possible; once you smash into one of the aforementioned obstacles, the game is over. It doesn't get much simpler than that.
Over the past few years, I've downloaded more than a few cave-flying games, hoping to see what all the fuss is about. Every one of those games, save one, has been summarily deleted from my iPhone or iPad after a few minutes of play. Either the game was laughably easy, infuriatingly difficult, mind-numbingly repetitive, or frustratingly hard to control. (How difficult is it to perfect a one-finger control scheme? Very, apparently.)
The "save one," however, is the subject of this review, as Halfbrick Studios's Jetpack Joyride, a universal app for both iPhone and iPad, is a delightful and addictive cave flyer that keeps me coming back for more.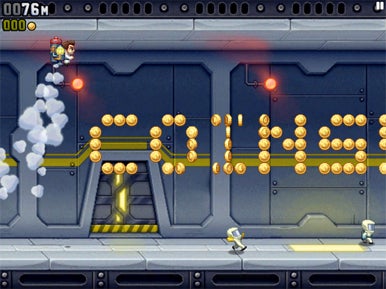 The basic gameplay isn't unlike most other cave flyers. You play the role of Barry Steakfries, a disgruntled individual who breaks into a top-secret research lab, steals a machine-gun-powered jetpack, and takes flight through the lab… which, conveniently enough, is designed as a never-ending string of long, tunnel-like rooms. As you jet or run along, ever-forward, you try to avoid various hazards—electrified barriers, lasers, and missiles from the lab's defense system—while collecting coins scattered about. All the while, the lab's scientists run in fear of you, as depending on your equipment, you can—purposely or accidentally—inflict mortal injuries upon them. (Yes, there is violence in the game. Cartoonish violence, but violence nonetheless.)
The game's comical graphics raise it above most offerings in the genre, but it's the extras that make Jetpack Joyride a true standout. For example, at various points along your path, you encounter vehicle stations, each producing a random selection from the game's array of laboratory vehicles: the Hog (a jumping, Harley look-alike equipped with a sawed-off shotgun), the Lil' Stomper (a jumping, scientist-crushing exo-skeleton), the Crazy Freaking Teleporter (a teleporter that transports you across limited distances—directly into hazards if you're not careful), the Profit Bird (a flying, robotic bird that apparently runs on cash), the Gravity Suit (which pulls you to the floor or ceiling), and Cuddles (a snake-like, fire-breathing dragon that would wreak havoc at a Chinese New Year parade). In addition to protecting you from one hazard collision—at which point you revert back to your trusty jetpack—each vehicle's larger size makes it easier to collect coins (once you've mastered the vehicle's controls, of course).
Speaking of controls, Jetpack Joyride is one of the few cave flyers that masters the one-button approach. It will take you a few games to get used to the game's competing forces, but once you do, I've found Jetpack Joyride's mix of responsiveness, jetpack acceleration, and force of gravity to be just about perfect. While I've of course been frustrated when I've run into a hazard or missed a batch of coins, it's never been because I felt the controls were too difficult to master or because Barry wasn't doing what I asked him to do.
Speaking of coins, they aren't just for stroking your coin-collecting ego. You can use them to enhance your character with new heads, hats, helmets, clothes, glasses, and other accessories. You can also buy alternative jet packs, such as the unicorn-tear-powered Rainbow Jetpack and the Golden Piggy Pack, which, at 50,000 coins and "firing 1928 issue $1,000 bills…is probably the most wasteful machine ever created." You can also buy vehicle upgrades, such as magnetized versions of each vehicle–a magnetized vehicle can grab coins anywhere within range of its magnetic field.
(If you don't have the patience, or skill, to save up enough for a particular upgrade, you can use in-app purchasing to buy coins with real-world cash. A mere $1 gets you 20,000 coins, while a whopping $13 gets you a Fort Knox-sized stash of 1,000,000 coins. The best value? The $1 Counterfeit Machine, which stamps out, in perpetuity, an additional coin for every one you collect in the game.)
The other things you encounter floating around the lab are tokens. Similar to coins but much larger, they make a sine-wave path across the screen, requiring a modicum of skill to grab them. What are tokens for? Why, for the end-of-game slot machine, of course! Although I haven't done the mental gymnastics required to make this bonus round fit into the game's storyline, it's a fun diversion: For each token you collect, you get a spin of the slot machine. The potential prizes include additional tokens, batches of coins, and various utilities.
Those utilities, most of which you can also purchase separately with coins, are available either immediately or in the next game you play. They include Head Start, which advances you 750m; Quick Revive, which brings you back to life; and Final Blast, a bomb that launches your deceased body forward, hopefully letting you snag some additional coins and tokens before you come to rest again.
The upgrades, vehicles, tokens, utilities, and more combine with the game's graphics and snarky attitude—who doesn't love high-fiving scientists as they flee in terror?—to put it a cut above the typical cave flyer. But what keeps me coming back for "just one more game" are the missions and achievements. As you play, there are always three missions to complete, such as "Fly 500m in the teleporter in a single run," "High five 75 scientists," or "Collect 400 coins in one game." There are even missions for not collecting coins.
Each mission is worth one, two, or three stars, and each remains until you complete it, at which point it's replaced by a new mission. As you accumulate stars, you advance through the game's myriad ranks; when you achieve the highest rank, you get a special badge and return to the initial level. If you're at all the goal-driven type, these missions and awards will get your competitive juices flowing, making you forget how repetitive, in theory, a game like this could be.
In addition to missions, Jetpack Joyride offers 30 Game Center achievements, such as For Science (knock over 1000 scientists), Hippy (take a trip in the Rainbow Jetpack without collecting any coins), Germaphobe (fly 2000km without touching any coins, tokens, or scientists), and Gold Digger (collect 20 coins while dead—comically, Barry bounces and slides across the floor after his life has been ended by a hazard, collecting coins until he finally comes to rest). These give you even more reasons to play over and over, but they also let you compare your accomplishments with your friends. And a recent update added the capability to boast about your scores on Twitter and Facebook, as well as to view in-game markers that show the farthest progress of your friends (although these social-media features require that you enable Open Feint—it would be nice if this weren't necessary).
Finally, Jetpack Joyride compiles dozens of statistics about your play, such as the most coins collected in a single game (2348), the total number of coins collected (63,819), the number of times you've been killed by a zapper (265), the total number of hours played (don't ask), and even the total distance you've slid on your face after dying (2,296m).
When it comes to cave flyers, Jetpack Joyride wasn't the first, by any means. But it's the first that's become a fixture on my iPad and iPhone, keeping me coming back for more, over and over.
[Dan Frakes is a senior editor at Macworld.]