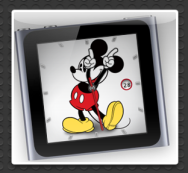 Thanks to Dashboard's Web clipping feature, you can turn almost anything you see on a webpage into a widget. Hints reader Freethought realized that you can use that capability to grab your very own Mickey Mouse clock for your desktop. The key: Mickey is one of the numerous clock faces Apple now offers on the iPod nano, and Apple shows a full working, ticking preview of the clock on its website. Here's how to grab it for your Mac.
First, go to Apple's iPod nano page in Safari. Control-click (right-click) on a white, empty section of the webpage, and choose Open in Dashboard from the contextual menu that appears. Then, click once on the Mickey Mouse clock face, which places it in a white, resizable box. Adjust the box by dragging the handles so that it completely contains the clock. When you're ready, click on the Add button at the upper right corner of your Safari window.
Once you click on Add, you'll be switched over to Dashboard immediately, and if all goes well, your Mickey Mouse clock should appear there.
(One reason this trick works: The Mickey Mouse clock face on Apple's website is created entirely using HTML, CSS, JavaScript, and a few images—but no Flash.)