As promised during October's iPhone 4S press event, Apple has now expanded its newest smartphone's global reach. On Friday, the iPhone 4S went on sale in 22 additional countries, bringing the device's total to 29 countries around the world, with more to come.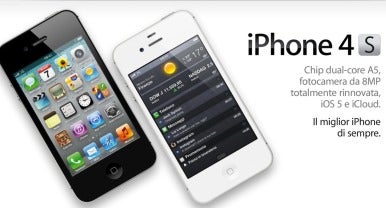 The newest countries are Austria, Belgium, the Czech Republic, Denmark, Estonia, Finland, Hungary, Ireland, Italy, Latvia, Liechtenstein, Lithuania, Luxembourg, Mexico, the Netherlands, Norway, Singapore, Slovakia, Slovenia, Spain, Sweden, and Switzerland. They join the ranks of the U.S., UK, Germany, France, Australia, Canada, and Japan, which began selling the iPhone 4S two weeks ago.
Sales of the device have thus far been strong; Apple said it sold 4 million phones in the first three days of its availability. Customers pre-ordered more than 1 million devices, the highest number ever recorded for an iPhone model.
In the U.S., part of that success is no doubt bolstered by the fact that the iPhone 4S is the first version of the device to launch simultaneously on three domestic carriers: AT&T, Verizon, and Sprint. AT&T said it activated more than 1 million iPhone 4S units, which set a record for its iPhone launches. Sprint didn't provide exact numbers, but said in its third-quarter results that the iPhone 4S release "resulted in Sprint's best ever day of sales in retail, web and telesales for a device family in Sprint history." Verizon didn't provide numbers in its own financial results, only saying that demand for the new phone was strong. A fourth partner, the regional carrier C Spire Wireless, is due to enter the fray shortly as well.
Apple's sales outlook is, unsurprisingly, optimistic, but CEO Tim Cook took matters a step further during the company's financial conference call earlier this month, saying "we are very confident that we will set an all-time record in the December quarter for iPhone sales." For a company that usually guides conservatively, Cook's pronouncement—which he said not once, but twice—lends it the weight of a sure thing.
And it's easy to see where the conclusion comes from. For one thing, there are the positive numbers already reported. For another, during the company's launch of the iPhone 4S earlier this month, Apple senior vice president Phil Schiller said that the company plans to have the device sold in more than 70 countries, with more than 100 carrier partners, by the end of the year. It is, Schiller said, the fastest iPhone rollout ever—and likely, the company's most profitable as well.