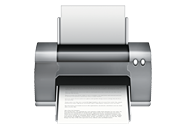 If you're using an Epson or HP printer to crank out posters or invites to this weekend's Halloween bash, you'll likely want to download Apple's new printer drivers for Snow Leopard and Lion.
The HP printer driver v2.8 is a 515MB download, while the Epson printer driver v.2.9 is a 972MB download. Both updates were released today and are available via either Software Update or from Apple's support website.
The update installs the latest software for your Epson or HP printer or scanner. And that is pretty much all anyone needs to know, as Apple takes care of the gory details.
If you're curious, feel free to check out the list of all Epson or HP printers covered by this update.