Facebook plans to shut down the Beluga mobile messaging application it acquired earlier this year, after launching a similar, native service called Facebook Messenger that's based in part on the Beluga technology.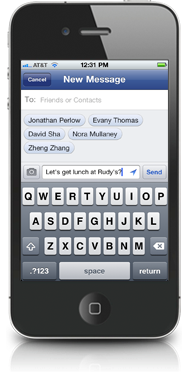 Users will not be able to use Beluga to send messages after Nov. 11, and the service will be shut down completely on Dec. 15.
For now, users can access their old messages via the Beluga app and website, and download an archive of their private messaging groups, or "pods."
"We'd like to thank you all for being such enthusiastic and loyal users. We'll continue to use your feedback to improve Messenger and make messaging your friends easier, faster and more fun," reads a message posted on the Beluga website on Friday.
Facebook acquired Beluga's technology and staff in March. Facebook Messenger was launched in August and is available in 22 languages, for iOS, BlackBerry and Android devices.
Mobile is an increasingly popular way of accessing and using Facebook, and more than 350 million users access the service from a mobile device, according to the company.
Facebook Messenger lets users communicate both with Facebook and non-Facebook contacts through site notifications and regular text messages.
In addition, Facebook Messenger is integrated with the site's main messaging service, so that all conversations are consolidated in a central interface.
Like Beluga before it, Facebook Messenger is designed for multi-person communications in which a user can send a message to a group of people. Facebook Messenger also lets users attach their geographic location information and photos to the messages.