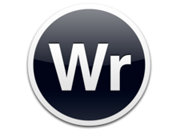 Hog Bay Software on Monday released WriteRoom 3.0 for Mac, an update to its minimalist writing app—just in time for National Novel Writing Month. The latest version adds full support for OS X Lion features, along with the ability to share themes with others, track your writing progress, and more.
For those attempting to write a novel this upcoming month, WriteRoom 3.0's new features will help keep distractions at bay and your writing on track. The app now supports full-screen mode in Lion, as well as scrollbars, autosave, and auto-resume. And to further the camaraderie of NaNoWriMo, you can share your favorite WriteRoom themes with fellow writers. Customize the background images, paper textures, and typing sounds, then access the app's Themes menu to share.
To help keep you organized and meet your daily writing goal, WriteRoom 3.0 makes it possible to track your word counts and automatically send that information to a spreadsheet. Other new features in the update include faster handling of large documents; the ability to use shift line up, down, left, and right commands; live session counts and reading time; and the ability to select word, sentence, and paragraph commands.
WriteRoom 3.0 is available from the Hog Bay Software website or from the Mac App Store for $10. 3.0 is a free upgrade for those who purchased WriteRoom 2.0 in the last 12 months from Hog Bay's site, and $5 for those who purchased the app before that. It requires Mac OS X 10.7 or later.