Alien Skin Software has released Blow Up 3, the new version of its photo enlargement plug-in for Adobe Photoshop, Photoshop Elements, and Photoshop Lightroom. It is available now on the company's website for $199, a $50 price drop from Blow Up 2.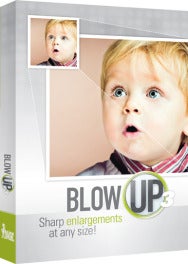 Blow Up is a utility that specializes in enlarging photos while keeping them sharp, even at very large sizes. This version features an updated interface and adds support for Adobe's Lightroom photo management package—the home of many pro photographers.
Anyone who has enlarged a photo with traditional software has experienced the disappointment of blurry details and jagged edges. Enlarging images has always been tricky and often unsuccessful without some kind of specialized software assistance. For certain kinds of enlargements, Photoshop by itself will simply not cut it.
Blow Up 3 keeps edges sharp and smooth, even more so than in version 2, Alien Skin says. It does output sharpening depending on paper type in order make sure prints are clear. The software also got a speed boost, helpful for users doing batch enlarging.
Blow Up is now simpler to use too, according to the company. If you understand Photoshop's Resize command then you already know how to use Blow Up. Blow Up's ease of use is even greater because it comes with presets for standard paper sizes.
Blow Up 3 is a plug-in and requires one of the following host applications: Adobe Photoshop CS4 or later; Adobe Photoshop Elements 8 or later; and Adobe Photoshop Lightroom 2 or later. The software also requires Mac OS X 10.6 or later on a machine with an Intel Core 2 processor, with a monitor of 1024-by-768 resolution or greater.
Blow Up 3 is available through the company's website for $199. Owners of Blow Up 1 or 2 can upgrade for $99. Free upgrades were sent to everyone who purchased Blow Up 2 directly from Alien Skin Software in July 2011 or later.