Frequent travelers will welcome the arrival of Twelve South's newest accessory, the PlugBug. An add-on for your MacBook's power brick, the PlugBug allows you to charge a USB device—such as your iPhone or iPad—while simultaneously charging your laptop.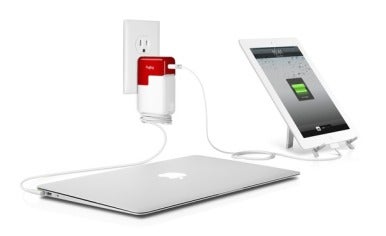 Thanks to the company's clever design, the PlugBug actually snaps onto your MacBook's power brick and provides its own USB port (you'll need to remove the "duck head" or extension cable that Apple includes). That means instead of carrying both your MacBook and iPad chargers when you travel, you can just carry your MacBook power adapter with the PlugBug already attached. The PlugBug uses a flip-down two-prong plug that's similar to Apple's own adapters, and includes a cap so that you can also use the device as a standalone USB charger.
Packing a 10W, 2.1A power supply, the PlugBug provides what Twelve South describes as the fastest possible charging time for an iPad. (Apple's tablet can be a bit finicky about power.) And because it plugs right onto your MacBook's power adapter, it essentially serves as a plug adapter for international MacBook users who travel to North America.
The $35 PlugBug fits any MacBook, MacBook Pro, or MacBook Air power adapter, and can charge any model of iPhone, iPad, and iPod touch.