Happy November, iOS musicians: Apple has released a universal version of GarageBand for your iPhone, iPod touch, and iPad, and added a slew of nice new features to boot.
The 1.1 update, available from the App Store, brings Apple's music-making experience to the iPhone and iPod touch, miniaturized. The iPhone version supports the same eight tracks as its iPad cousin, Multi-Touch instruments, editing tools, and audio export.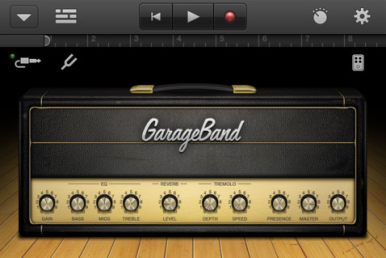 But the update isn't just limited to porting old features—it brings along some brand-new ones, too. For one, users can now create custom chords for their Smart Instruments; previously, they were limited to eight chords in a certain key. The Smart Keyboard, meanwhile, gains an Arpeggiator option, and all touch instruments now have adjustable velocity settings.
You'll also be able to tweak your time signatures with new 3/4 and 6/8 options; reset your song key without transposing your current tracks; transpose your songs by half-steps or full octaves; and play with new quantization options like "straight," "triplet," and "swing." And if you want to export your songs, you'll now be able to send them out to iTunes as AAC and uncompressed AIFF files.
All these features don't come lightly—GarageBand 1.1 is a gigantic 501 MB, and you'll need to be on a Wi-Fi network to download it. The update is free for those who purchased the iPad version; new users can buy it from the App Store for $5. (You'll need an original iPad or later, iPhone 3GS or later, or iPod touch (third-generation) or later to run the software.) We'll have a hands-on look at the updated app later Tuesday.