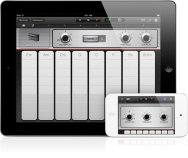 It's no secret around these parts that we're pretty fond of GarageBand on iOS. Apple's mobile music app hits all the right notes, appealing to newbie musicians and professionals alike, offering massive amounts of functionality behind the guise of an easy-to-use interface and playful instrument designs; it's almost hard to believe the program has only been around since March.
Now, GarageBand is getting its first full update, and it's a whopper: The app has gone universal, with a brand-new iPhone and iPod touch interface, and has added a bunch of new features, including custom chords for Smart Instruments, an Arpeggiator for the Smart Keyboard, new velocity settings, transposition, new time signatures, quantization options, and support for AAC and AIFF export.
I spent the morning playing around with GarageBand on both my iPad 2 and iPhone 4; here are some initial impressions on the update.
Phenomenal cosmic powers… itty bitty living space
When I first got a chance to play with GarageBand on the iPad back in March, I had little expectation for an iPhone port. While the device's portable size makes it ideal for recording vocal snippets and guitar parts on the go, I was skeptical about the viability of GarageBand's full feature-set on such a small device. I'd owned guitar and piano iPhone apps before, but found them severely lacking in actual usability, thanks to small screen space and poorly-done interfaces.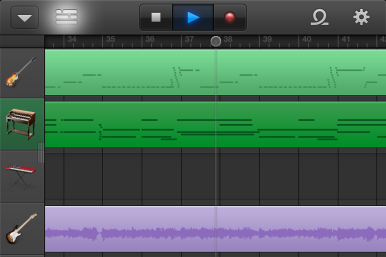 As of Tuesday, I am very happy to be completely, utterly wrong. Not only does GarageBand's iPhone and iPod touch version make music creation, editing, and exporting a snap, but the folks on the development team have somehow managed to implement almost every single feature from GarageBand for iPad into the device, and without compromising on design or user experience, at that. (The only missing feature I could find was support for multiple keyboards on one screen—something that makes little to no sense on a device as small as an iPhone or iPod touch.)
All your instruments from GarageBand for iPad are ready and waiting; all your settings, ready to be tweaked. The design team has made some very clever adjustments to compensate for the iPhone's small screen: The instruments themselves take up the full length of the screen, saving a small amount of space for the toolbar, which offers all your controls, hidden in several nicely-defined menus.
To access alternate instrument styles, other instruments, or to return to your songs list, tap the upside-down triangle in the upper left corner. If you want to swap back to your song timeline for editing, tap the timeline button immediately next to it. This button is intelligent: When in timeline mode, the icon switches to that of the instrument you have selected; tap it again to return to instrument mode, and it will turn into the timeline icon again.
In the center, you have your standard play controls: A button for returning to the beginning of the song, one to Play/Pause, and one to record. Off to the right, there are one or two icons, depending on the complexity of your instrument. The first—the effects icon—appears only if your instrument has additional toggles that the iPhone simply doesn't have space to display. (For example, the Autoplay knob and Chord/Notes toggle for the Smart Guitar.) Tap the icon, and the play area will slide down, revealing the extra controls.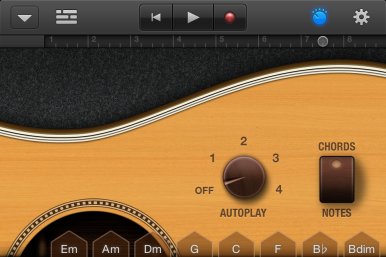 I like everything about this implementation. For one, the effects area still provides you with some access to the instrument (or, in the case of Smart Instruments, their chords) so that you can try out effects without constantly switching views. In addition, the GarageBand designers have been able to have a bit of fun stretching the instrument design metaphor, which leads to really beautiful discoveries: Tap the effects icon while in Smart Guitar, for example, and as the chords slide down, so does the entire guitar, revealing the curve of the instrument.
The last icon in the toolbar—the ever-familiar gear icon—has been multi-purposed here into a single window for track, section, and song settings. (In the iPad version, all three have separate pop-overs.) Like the effects view, you can test out a tweak made without having to leave the screen by tapping the volume icon in the upper left corner; it'll play a snippet from whatever you've been working on.
I didn't have too much time to play around in GarageBand's editing mode, but it, again, looks remarkably similar to its iPad cousin. You have full access to loops, support for cutting gestures, and the same eight-track limit for songs. Our full review of GarageBand 1.1 will likely take a closer look at the music-making process, but from the limited time I spent with it, I was incredibly impressed.
Instrument ch-ch-changes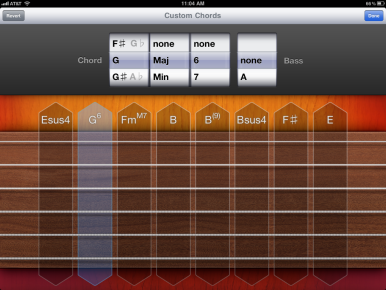 You'd think adding universal support to GarageBand would be enough for one update, but there are plenty of other tweaks. The program's Smart Instruments—Smart Guitar, Keyboard, and Bass—now offer support for custom chords, something I've been itching for since its release. You can adjust any of the eight pre-formatted chords by tapping Edit Chords in the settings pop-over and test them on the fly; if a chord you picked doesn't work well with the one next to it, you can just adjust it at will.
First introduced in 1.0 with the Keyboard and the Sampler, the Smart Keyboard instrument now gains access to GarageBand's Arpeggiator, a feature that sounds like it should be destroying things in a science-fiction film; in reality, the only thing it'll destroy is your free time. Based on the synthesizer effect of the same name, the Arpeggiator lets you define a sequence by playing a chord, then proceeds to create an arpeggio from that input. You can add a varied octave range (from one to four) for your arpeggio, change the note order, and alter the speed and note kind (1/4 – 1/32 note, dotted, or triplet).
Those who like velocity-based instruments—Drums, Smart Keyboard, and the Sampler among them—will be happy to hear that there are now some rudimentary controls for adjusting sound. Because your iOS device doesn't have a pressure-sensitive screen, GarageBand uses the velocity of your touch to imitate force. The Velocity Sensitivity setting offers four options: High, Medium, Low, and Off.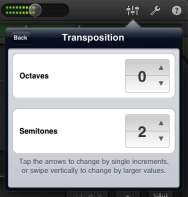 From my experience, off presents a default forte) sound with every tap; Low seems to more-or-less provide the same sound as when off; Medium offers two distinctions between taps, forte and piano; and High offers forte, mezzo-piano, and piano options. In English: Off—Loud; Low—Loud; Medium—Loud and Soft; High—Loud, Medium-Soft, and Soft.
Other instrument features include a transposition option for the Keyboard, Smart Keyboard, and Sampler: If you're unhappy with your track, or want a different sound, you can adjust it by half-steps and octaves. And if you're a drum enthusiast, you'll also find a new switch in settings to separate the bass drum from the cymbal.
General tweaks
GarageBand's instruments have gotten most of the new goodies in this update, but there are a few new general features out there, too: Two new time signatures, 3/4 and 6/8, join the default 4/4; you can change your song's key without automatically transposing your other tracks to the new key; and new quantization options allow you to correct your song's timing with swing and triplet notes. Finally, you can export your finished song in two new formats: AAC (from low-quality 64 kbs to iTunes Plus-quality 256 kbs) and uncompressed AIFF.
In short: This is a huge update. I spent several hours digging around, and even then, I feel like I've barely scratched the surface of what it has to offer. I certainly like what I see, though, and can't wait to dig around a little more. Who knows? There might even be some treasure lurking beneath the surface. For that, you'll have to stay tuned for Macworld's full review of GarageBand 1.1, coming soon.
Updated 11/3/11 1:53 p.m. PT to note that the Arpeggiator had previously been available in 1.0 for the Keyboard and Sampler.