The HP TopShot LaserJet Pro M275 is now available in the U.S. for $400, HP has announced. This hotly anticipated device—targeted to small and home-based businesses—represents a new category of multifunction printer: it's equipped with HP's TopShot scanning technology.
While this color laser multifunction printer performs the traditional MFP tasks of printing, copying, and scanning, it offers a completely different way to scan 3-D objects to produce eye-catching images to post or store online.
The scanner features a camera with a high-quality optical lens and high-resolution sensor embedded into a hinged arm above the device. The technology captures six images of a single 3-D object—three with flash from different angles, and three in ambient light at different exposure levels. It then combines those shots into a single high-resolution image.
With this device, users can quickly and easily scan documents or small objects and integrate the resulting images into their workflows without a computer. Under certain conditions, this MFP could substitute a complex photo shoot setup with lighting and staging in favor of a streamlined process of capturing and uploading product images.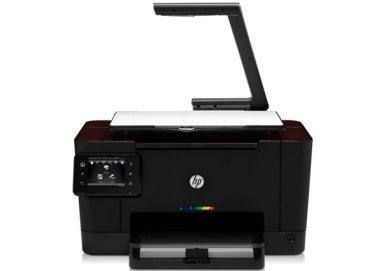 The included HP Scan software lets you remove the background from the scan, leaving only the image of the object so you can use scanned images immediately, without first having to make changes in photo editing software.
Cloud connectivity
The HP TopShot LaserJet Pro M275 provides direct connectivity to the Web and cloud-based services. Its all-in-one features let users capture and upload images and documents directly to the Web for display, storage, management, and sharing. Images can also be customized for use in graphical designs or inserted into print brochures and fliers.
This unit supports an array of free HP print and business apps that let you post, store, and print documents without a computer. It supports HP ePrint, which lets you print documents from any location to the printer's email address, and AirPrint, which lets you print wirelessly from an iPad, iPhone, or iPod touch.
Specs
Measuring 18.4-by-16.1-by-10.6 inches, and weighing 30 pounds, the HP TopShot LaserJet Pro M275 prints up to 17 pages per minute in black, and up to 4 pages per minute in color. Copy resolution is 600 dpi while scanning resolution is 245 dpi. In terms of paper handling, it has a 150-sheet input tray and a 50-sheet output bin. Its networking capabilities include USB, Ethernet, and wireless. You can access, store, and print using controls on the printer's 3.5-inch color touchscreen display. It cites a monthly volume of up to 20,000 pages.
Related printer software works on a Mac running OS X 10.5 or later on both PowerPC and Intel systems.
HP LaserJet Pro 200 M275NW Multifunction Printer