Now you see Gmail for the iPhone, iPod touch, and iPad; now you don't.
Hours after releasing a highly anticipated version of its email offering for iOS devices on Wednesday, Google pulled its latest creation from the App Store. According to an update to the blog post trumpeting Gmail's arrival for iOS devices, Google removed the app from circulation because of a bug related to setting notification alerts. Specifically, when launching the app, users were greeted with a notification error message; they also weren't able to find the Gmail app in their notification settings.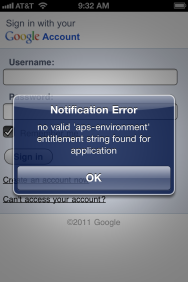 User complaints during Gmail's initial availability weren't limited to the notifications bug, though. The iOS app's interface very closely resembled the Web-based version of Gmail—a disappointment for many.
With the iOS app, users could browse through their Inbox, search for emails, and navigate Gmail in split view (though that last feature was only available on the iPad). All of Gmail's organizing features were available too, including the ability to label, star, delete, and archive messages. Yet, it was not possible to swipe to archive emails like you can in the Gmail mobile webview; instead, swiping right revealed all of your mailboxes and labels.
Another option missing from the Gmail app was the ability to add multiple accounts, something many users would like (and need) to do. There were, however, a couple features unique to the iOS version of Gmail, such as the ability to select email addresses from your device's address book and add media attachments directly from the compose message view.
While the Gmail app is no longer available to download on the App Store, anyone who downloaded it already can still use it on their iOS device.
Google hasn't indicated when a new version of the app will hit the App Store.