At a Glance
Expert's Rating
Pros
Great USB speeds
Tough in intense conditions
Extensive warranty
Cons
Not preformatted for the Mac
Our Verdict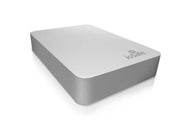 If you work on an oil rig, out at sea, or at heights that rival Mount Everest—or even if you don't do any of those things—ioSafe's Rugged Portable, promises to protect your data in these types of extreme situations. Macworld Lab tested the Rugged Portable SSD, and it isn't cheap, but it comes with an extensive warranty, and it's a perfect size for travelling. It doesn't skimp on speed, either.
The Rugged Portable is one of the simplest-looking drives around. It's made out of aluminum and shaped like an oversized iPod. On the back you'll find a Kensington security slot, USB 3.0 port (backwards compatible with USB 2.0), and an activity light.
The unit looks heavy, but its 1.15 pounds feels surprisingly lighter than it looks, and at 6-by-4-by-1 inches, fits in one hand with no trouble.
In keeping with the simplicity of the device's design, the Rugged Portable ships only with a user manual, USB 3.0 cable, and a USB 2.0 Y-cable, which allows you to draw power from another port should the unit require it. The drive ships formatted for use with a Windows machine, but formatting it for Mac using Disk Utility is a simple process.
According to the company, the 120GB, aluminum-housed SSD version of the drive can take up to 2500 pounds of pressure and survive a 20-foot drop. On top of that, it can stay submerged in 10 feet of salt or fresh water for three days, or in a foot of various oils, such as diesel and aircraft fuels, for up to an hour. The drive can even stay exposed to weather conditions such as freezing rain and direct sunlight for 24 hours and operate at altitudes up to 30,000 feet. While the average user will probably never encounter any of these scenarios, its nice to know the Rugged Portable is built to survive the harshest of calamities. ioSafe also sells a version that's made of titanium for even greater protection. No matter which model you choose, know that you'll be paying a premium for the added security. The drive we tested has a price tag of $499, almost twice as expensive as other external SSD drives of the same capacity.
If the drive were to somehow fail, ioSafe's warranty and Data Recovery Service (DRS) help to ensure your data lives on. For problems that ioSafe can't solve through phone or email support, the company works with DriveSavers to recover any data it can retrieve and send it back to you in a similar unit. If DriveSavers can't retrieve the data, ioSafe will work with another third-party recovery service and pay up to $5000 to extract any data from the drive. At the time of purchase, or when you register the drive, you get one year of included DRS and warranty coverage. For an extra fee, you can extend the coverage for three or five years.
The drive doesn't hold back on speed, breaking two lab records in our suite of hard drive tests. Our results using USB 2.0 found it besting the Iomega Skin portable hard drive, the previous USB 2.0 record holder in our 2GB file write test, posting 33.6MBps to the Iomega's 33.3MBps. The device also shined in our AJA System Test, posting a write speed score of 31.9MBps, just 0.1MBps shy of the 32MBps high, and attained a read speed of 38.4MBps, overcoming the previous USB record of 38.3MBps.
Macworld's buying advice
The ioSafe Rugged Portable SSD is an excellent (if pricey) choice for users that value the safety of their data. If only for its toughness and data recovery services, the Rugged Portable would be a good pick, but its light weight and zippy speeds make it one of the best choices for keeping your data safe.